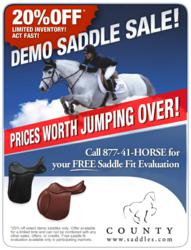 Other markets in the United States are available.
Lisbon, MD (PRWEB) June 21, 2013
County Saddlery today announced a lucrative business opportunity for a New York-based, seasoned Entrepreneur, sales professional to become County's exclusive sales representative overseeing its New York sales territory, an independent position providing a potential six-figure-plus income.
County is currently seeking ambitious, energetic and entrepreneurial candidates possessing the following qualifications: five-10 years of sales experience, past experience with horses, customer service experience, excellent communications skills, experience creating and delivering sales presentations, and demonstrated ability to close a sale.
The independent sales representative is expected to build his or her own sales support team and generate sales leads along with the company. In addition to the opportunity to earn a six-figure plus income, benefits include: a comprehensive training program, company-assisted lead programs, free product samples, technical support, and generous recognition and rewards incentive programs.
For more information about the position, prospective applicants should send their resumes directly to: info(at)countysaddlery(dot)com
County Saddlery's representatives provide customers with exceptional service, offering an extensive selection of saddles covering all models, seat and tree sizes, colors, and other rider-and-horse options. "County's personalized service gives horse and rider the perfect fit, eliminating the hassle, expense and frustration of shipping ill-fitting saddles back and forth," says County Saddlery President Gene Freeze. "Our expert representatives ensure we get it right the first time."
County offers a full line of custom-made dressage and jumping saddles, including its two most popular models the Sensation jumping saddle and the Perfection dressage saddle, used by some of the world's leading riders.
The Sensation jumping saddle has an innovative design that solves the common problem of high, narrow withers with only one saddle pad. Sensation provides unmatched comfort and clearance for horses with high withers, according to the company, providing unprecedented pain relief for the horse and maximum performance for the rider.
The Perfection dressage saddle is the choice of current world champion and triple-gold-medalist at the World Equestrian Games Edward Gal of the Netherlands, riding Totilas. The Perfection saddle addresses horses' and riders' individual needs to perfection, County says, helping them achieve their best performance together.
"How much can a saddle affect your balance, riding position, effectiveness and comfort? In a word, profoundly," notes Freeze. "At County, we believe there is a reason 'custom' is in the word 'customer.' Everyone is different, and all riders deserve equipment that addresses their individual needs."
County's traditional methods take longer and require a higher degree of craftsmanship than competitors' methods, but once a rider sits in a County, the results are clearly worth it. The company's commitment to quality and detail is reflected in every saddle it makes.
Resisting the trend toward cheaper production methods that use foam-rubber panels and plastic trees, County saddles are handmade on laminated beech-wood trees, covered in the world's finest leather, and flocked with pure wool to maximize horses' comfort and fit. One of the few saddlery companies in the world to make their own tree points, County sets the industry standard in design and innovation.
For more information, readers should visit County's website at http://www.countysaddlery.com.
For more information about the position, prospective applicants should send their resumes directly to: info(at)countysaddlery(dot)com. Other markets in the United States are available.