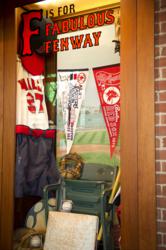 It has been a wonderful experience opening up collection storage to the artists for this project.
Boston, MA (PRWEB) June 21, 2013
Boston Children's Museum recently pulled back the curtain and unveiled 24 window display cases with each window representing a letter of the alphabet and featuring objects from the Museum's collection.
Boston Children's Museum has been planning for its 2013 centennial anniversary for several years. In 2011, staff began discussing the idea of coordinating a Museum-wide redesign of the 24 window cases that are found along the first, second and third floor bridges. Once the Museum's exterior windows, these vitrines are now displaying treasures from the Museum's vast collection of cultural, historical and natural history objects, and interpreted by artists.
The idea for "An Alphabet of Inspiration" derives from a project at the Museum nearly 30 years ago in a publication and exhibit that highlighted the collection, with objects grouped by letter of the alphabet and photographed. Now, with 24 window spaces, Museum staff and guest artist/curators have created installations devoted to each of the letters in the alphabet from A-XYZ. The overarching theme is simple, accessible to its audience, and provides many opportunities to engage artists, friends, and the community.
Graphic designers, architects, sculptors, painters, and installation artists from around Greater Boston came out to learn about the project. Along with the diversity of artistic mediums represented, the artists also range from seasoned professionals, those who have been working artists throughout their careers, to recent graduates from local colleges and universities.
"It has been a wonderful experience opening up collection storage to the artists for this project. Seeing the awe in their eyes and helping them find those unique pieces for their installation has been eye opening. I look forward to seeing that same awe in the Museum visitors when they see the final installations," said Rachel Farkas, Collections Manager.
Not only will the completed exhibit infuse the windows and the Museum with whimsy and wonder, but it will also allow Boston Children's Museum to share its one-hundred-year old collection history with visitors and showcase hidden gems. Through collaboration with guest curators, these new installations will engage the public with intriguing use of collection objects and Boston Children's Museum's identity as a Museum.
Artists include:
"A"rctic, Sarah May, Museum Staff
Sara Sargent, Museum Staff
Jessica Englund, Museum Staff
"B"ahay Kubo, Bren Bataclan, Cambridge
"C"lamp, Agoos D-zines LLC, Boston, MA
"D"iversity, Dan Moynihan, Brookline, MA
"E"ntrances and Exits, Maggie Carberry, Jamaica Plain, MA
"F"abulous Fenway, Boston Red Sox, Boston, MA
"G"ames, Kerri Schmidt, Jamaica Plain, MA
"H"omes, Rachel Mello, Somerville, MA
"I" Spy…, Rachel Farkas, Museum Staff
Alice Vogler, Museum Staff
"J"ade, Julie Chen, West Hartford, CT
"K"ite, Janet Kawada, Brookline, MA
"L"unch, Judith Klausner, Somerville, MA
"M"eteorite, Hilary Zelson, Boston, MA
"N"et/Network, Wen-hao Tien, Cambridge, MA
Laurie Verner, Cambridge, MA
"O"riole, Carolyn Lewenberg, Roxbury, MA
"P"ast/Passed, Kyle Larabee, Cambridge, MA
"Q"uestioning, Philippe Lejeune, Brookline, MA
"R"estore/Recycle, Bill Turville, Arlington, MA
"S"ymbol, Margaret Bellafiore, Weymouth, MA
"T"extile, Donna Rhae Marder, Winchester, MA
"U"rchin, Julie Chen, West Hartford, CT
"V"iew, Brooke Scibelli, Lexington, MA
Dyllan Nguyen, Jamaica Plain, MA
"W"ash (ing), Charlotte Kaplan, Somerville, MA
"XYZ" - Axis, Danielle Freiman, Cumberland RI
Andrea Zampitella, Winchester, MA
Alexandra P. Photopoulos, Cambridge, MA
Boston Children's Museum has been a collecting institution since it was founded in 1913. The Museum's collection holds 50,000 objects representing a slice of Boston history, as well as cultures and species from around the world. There are 35,000 cultural artifacts and 15,000 natural history objects. The Museum opened the doors to the collection vault to local artists to have them help bring the windows to life. Each window combines collection objects as well as artwork or artifacts contributed by the artists. From A to XYZ, there is something from everyone.
An Alphabet of Inspiration: Local Artists Celebrate 100 Years of Collections is on display through 2013.
About Boston Children's Museum
Boston Children's Museum engages children and families in joyful discovery experiences that instill an appreciation of our world, develop foundational skills, and spark a lifelong love of learning. More information about Boston Children's Museum can be found at http://www.BostonChildrensMuseum.org. Become a fan of the Museum on Facebook at https://www.facebook.com/BostonChildrensMuseum and follow us on Twitter at https://twitter.com/BosChildMuseum.
Hours and Admission
The Museum is open daily from 10:00 a.m. – 5:00 p.m. and Fridays until 9:00 p.m. Adults, $14, children (1-15) and senior citizens, $14; children under 12 months and Museum members are always free. Fridays 5:00 p.m. – 9:00 p.m., all visitors $1.
###