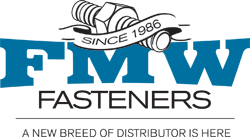 Houston, TX (PRWEB) June 21, 2013
Silicon bronze is the material of choice when a high level of corrosion resistance is required. Typically the standard in marine construction, power plants, corrosive liquid handling and sea-born platform facilities. Silicon bronze fasteners are also non-magnetic and have good friction reduction characteristics along with a high degree of thermal conductivity.
Currently available in standard socket head cap screws, fully threaded hex tap bolts, finished hex nuts and flat washers. Material may consist of Alloy 651 or Alloy 655 depending on the product.
FMW Fasteners offers free shipping on orders over $25.00 and flat rate $5.00 shipping on orders under $25.00.
FMW Fasteners is your online source for premium fastener products, to include anchor products, nuts, bolts, socket products and screws. Founded in 1986 in Houston, Texas, FMW Fasteners stocks premium products by Brighton-Best, Simpson Strong-Tie Anchor Systems, ITW Buildex, Intercorp, Toggler® Anchor Systems, FastenMaster and many more.
For more information, visit http://www.fmwfasteners.com or follow FMW Fasteners for updates and promotions on Twitter, Google+ and Facebook.