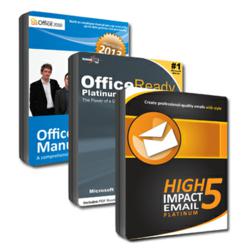 Cambridge, MA (PRWEB) June 24, 2013
KMT Software, Inc. has updated their High Impact eMail 5, OfficeReady 4, and Office Policy Manual products for Office 2013 and Windows 8. These products have already helped hundreds of thousands of small businesses improve their business productivity and professional look. Now, all three programs are available for the latest Windows, version 8, and Office 2013. Updates are automatically included for all new users and are available for free to current version users.
High Impact eMail 5:
High Impact eMail 5 is an easy-to-use desktop application for designing and sending professional HTML email marketing materials such as newsletters, advertisements, stationery, greetings, invitations and more. Users can create high-graphic, personalized campaigns from over 600 studio-quality templates as well as manage contacts, employ advanced mail merge and batch scheduling, and deploy emails through Outlook, Windows Mail, Gmail and any e-mail service provider that supports HTML. Users select a template, insert their pictures and text, and send stylish e-mail promotions that generate results. No familiarity with HTML or graphic design required: all of that's done already so that users can focus on their message and resulting sales.
OfficeReady 4:
OfficeReady 4.0 remains a top Microsoft add-on for small businesses who want to create their own extraordinary print marketing and business materials right from their desktop. OfficeReady templates with useful business forms and unique, engaging marketing materials allow small business professionals to spend less time on designing, calculating, and organizing and more time on growing and generating revenue.
Installing OfficeReady 4.0 inserts a dedicated tab in Microsoft Office Applications that allows users to easily access templates for documents such as newsletters, flyers, product sheets, sales report, order forms, and other necessary business and marketing documents.
OfficeReady 4.0 provides professionally-designed Microsoft Word templates, pre-formatted with useful formulas, Microsoft Excel templates, and sleek Microsoft PowerPoint templates. Every OfficeReady template design is easily customizable with Microsoft Office's formatting tools and OfficeReady's built-in editing features, including a robust Photo Editor which is intuitive and requires little effort to learn.
Office Policy Manual 2013:
An employee manual is an indispensible reference for companies, and Office Policy Manual 2013 makes it easier than ever for small business owners to create a solid employee handbook. An employee manual can prevent disputes while providing the necessary structure for a professional work environment. By clearly defining office conduct policies, this manual protects companies from discrimination and harassment claims.
Office Policy Manual 2013 gives small businesses a head start on the work with 10+ updated policies and 50+ human resource forms pertaining to leave, compensation, insurance, attendance, travel and more. Up-to-Date disaster recovery procedures as well as an extensive number of social media policies are included, as well as plans for handling violent situations that guarantee that workplace catastrophes are handled quickly and consistently.
Additional Info:
Purchases made on TemplateZone.com or by phone order after May 14, 2013 automatically include these updates. Customers who purchased a current version product before this date can contact KMT Sales Associates at 1-800-568-2252 ext. 2 or sales(at)templatezone(dot)com with their order or product registration information to receive a free update.
About KMT Software, Inc.:
KMT Software was established in 1991 and currently encompasses three software brands: TemplateZone, High Impact eMail, and High Impact Designer. TemplateZone produces desktop software and is the world's leading supplier of studio quality HTML email template designs as well as exhilarating print marketing designs. High Impact eMail is an iPad Application created to allow users to design and send emails to groups on their mobile device. High Impact Designer is a suite of online marketing tools for Facebook, Email, and Landing Pages. With a community of over 2 million users, KMT Software is committed to helping small business professionals be more productive.