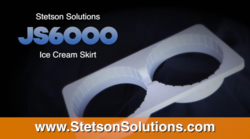 "See the strength of the JS6000 ice cream skirt with your own eyes on their website at www.stetsonsolutions.com."
Boulder, CO (PRWEB) June 25, 2013
Upgrade your ice cream shop to the polished and professional JS6000 and JS7000 ice cream skirts Stetson Solutions has exclusively developed for solving the dilemma of messy and unwieldy ice cream skirts currently in the industry.
Having owned an ice cream shop for 4 years and being in the industry for an additional four, Stetson Solutions found the lack of quality in ice cream skirts very frustrating. They would constantly break, causing the whole ice cream shop to slow down, and were extremely costly to replace. Naturally, Stetson Solutions began to envision how to make an ice cream skirt more durable.
Not only would new ice cream skirts need to be visually appealing, they needed to be uncomplicated and less expensive than current options. Through this process, Stetson Solutions developed both the JS6000 and JS7000 ice cream skirts. The durable JS6000 is the new leader in the ice cream skirt market with a plastic shell and steel reinforced insert that can hold up to 200 pounds.
The goal of the JS7000 was to fix the problem of rotating cardboard buckets. This problem was solved by a metal frame that has inserts in the bottom corners to keep the cardboard bucket still while scooping; this will also help employees scoop faster. The Stetson Solutions rail system is also unique in that it not only holds the skirts, it has metal clips on the top so it keeps the skirts from popping up while being scooped as well.
After extensive testing, the JS6000 and JS7000 are the best options on the market to solve the problems Stetson Solutions has encountered within their own store and know that others are facing. Stetson Solutions is now offering the JS6000 and JS7000 ice cream skirts at reasonable prices via their website. Plus, to see the strength of the ice cream skirt with your own eyes go to their website at http://www.stetsonsolutions.com.