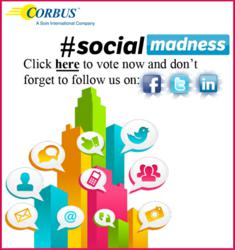 Dayton, OH (PRWEB) June 21, 2013
On June 17th, Dayton Business Journal wrapped up the first round of its second annual Social Madness competition with Corbus, LLC finishing in first place in the medium category. Social Madness is presented by Dayton Business Journal's parent company, American City Business Journals. It is a competition that measures a company's social media engagement on Twitter, Facebook, LinkedIn and Google+, with three national winners receiving $10,000 to donate to a charity of their choosing.
Round two of the event began on June 18th and differs from the previous round by pitting the remaining companies in each category against one another in a bracket-style, head-to-head competition, where the winner moves onto round three. Corbus is competing this week with Progressive Printers Inc., a printing company located in downtown Dayton. The winner of this round moves on to the semi-finals the week of June 24th and the finals will take place the week of July 1st. The winner of the finals in each category will be announced July 9th and will advance to the national competition.
"We are ecstatic that we are off to a great start so far in this competition," stated Joe Basalla, Chief Operations Officer. "We made it pretty far last year and would love the opportunity to win the $10,000 to donate to a charity of our choosing. Corbus is a big supporter of giving back to our community in as many ways as we can, and we'd love for the Dayton community to jump on board and help us out!" If Corbus wins the national competition, they will be donating the funds to Corbus Cares, the 501c3, nonprofit, philanthropic arm of Corbus, LLC that supports healthcare and education initiatives. The donation to this organization will help to distribute the funds to numerous charities within healthcare and education advancement and will allow for multiple organizations to benefit from the donation.
Individuals and organizations that support healthcare and education initiatives are encouraged to support Corbus, LLC in this competition. You can do so by voting every day for Corbus in the medium category, "liking" Corbus on Facebook, and "following" Corbus on Twitter.
Corbus, LLC
Corbus, LLC, a minority owned, global solutions provider founded in 1994, offers Information Technology (IT), Sourcing and Procurement and Business Process Management (BPM) related services and solutions across a variety of industries. Using a global delivery model, including multilingual and multicurrency flexibility, these services provide value by improving client business processes, reducing operating costs, improving product quality and extending global capabilities. With a focus on innovation and flexibility, Corbus nurtures each relationship to become a partner of choice for its clients.
Corbus is a global organization, headquartered in North America with a presence in Europe and Asia Pacific markets. Corbus is a wholly owned subsidiary of Soin International LLC, a private multi-national holding company that provides strategic management, administrative systems, and financial support to a diverse array of worldwide subsidiaries and affiliates.