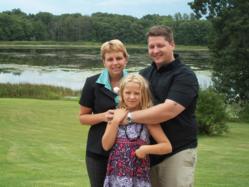 "I am so grateful and amazed," said Melanie Dickinson, Jeremy's wife and full-time caretaker.
Waukesha, WI (PRWEB) June 25, 2013
On June 29, 2013 starting at 1:30 p.m. CST in Waukesha, WI there will be a 9 Pin Tap Bowling Tournament at Sunset Bowl Entertainment Center. A second squad will start at 3:30 p.m. CST.
This event is open to the public and all donations and profits raised will go directly to the "Supporting Jeremy Fund" that Rentapen Inc. and FundCrowd Benefits (FCB) have created along with friends and family.
Jeremy Dickinson is a U.S. Army Veteran, father, husband, former weight lifter, former CNC operator and laser cutting machine operator for Rentapen Inc. Dickinson did assembly of Rentapen's steel shim packs, and provided customer service to Rentapen's RAPid Tooling Components™ customers.
Jeremy was part of Rentapen for eight years. Then he was returning to school when his symptoms led him to the emergency room and a preliminary diagnosis of mitochondrial disease.
Now he lives in constant pain and is experiencing a life of declining ability.
Mitochondrial diseases result from failures of the mitochondria, specialized compartments present in every cell of the body except red blood cells. Mitochondria are responsible for creating more than 90% of the energy needed by the body to sustain life and support growth. When they fail, less and less energy is generated within the cell.
The Supporting Jeremy Fundraiser – 9 Pin Tap Bowling Tournament will be fun for all ages and is held in a family friendly environment. The cost of the event is $25.00 a person, which includes lineage for three games, shoes, and donation included. There will be 50/50 raffle tickets and chances to win prizes; high score winner has a chance to win $100.00. Support wristbands that will be available for $5.00.
Web sites have been set up to accept donations from those unable to make the Charity 9 Pin Tap Bowling Tournament. Rentapen's Community Support Page or Supporting Jeremy Fund pages provide information and updates. Some of the funds are being used for alternative therapy treatments that seem to be working well for Jeremy.
"I am so grateful and amazed," said Melanie Dickinson, Jeremy's wife and full-time caretaker. "After each treatment we receive from Dr. Wade at the Chinese Medical Center in Waukesha, we see some improvement in his ability. And his mood has also improved. We are so thankful for these donations. He would not be able to receive these treatments if it weren't for the big hearts of so many people."
"FundCrowd Benefits would like to thank the following Sponsors: Rentapen, Sunset Bowl, The Cooler, Nick Cooper at C&C Custom Concrete, David Thompson, and Tammy Krukowski at Krukowski Family Chiropractic for all that they have done to support the event," said Nicole Thies of FundCrowd Benefits (FCB).
For more information about this event and other events in the future, please contact Nicole Thies, Event Coordinator at FCB 608-214-6797 or Susan Straley, President at Rentapen Inc. 262-542-8891.