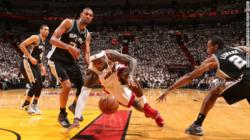 We have all been taught a valuable lesson: Always, always, expect the unexpected.
Miami, FL (PRWEB) June 21, 2013
The 2013 NBA Finals was littered with jaw-dropping moments and was undoubtedly one of the greatest Finals Series ever seen. After the crowning last night though in the winner-take-all final game, fans have all been taught a valuable lesson: Always, always, expect the unexpected.
Team sports in general carry a certain type of unpredictability that is fueled and characterized by the great players who play the game. Athletes like LeBron James, Dwayne Wade, Ray Allen, Tim Duncan, and Tony Parker have given basketball junkies and rising athletes alike a window into the one moment most people dream about as children.
Everything on the line, championship hopes held in suspension as everything hangs in the balance. The NBA Finals series that concluded last night was packed with these moments where the great players of the game seemed to take over. These athletes carried their teams to the top of the NBA and were able to prove themselves when others were not, and rightfully so.
The most prepared athletes have been at the forefront of scientific training for years. Take LeBron James for example, who blends cutting-edge training techniques and class muscle-building exercises, such as squatting on a vibrating platform.
These modern athletes represent the peak of all physical specimen on the planet. The relentless motivation and training regimens are what set them apart from the competition and ultimately get them to their goals quicker than anyone else.
The will to succeed begins and is ultimately decided outside of the arenas and stadiums though. Scientifically, tracking fitness has never been more important than today, but until now has never been made available to teams everywhere.
However, just recently, the first all-in-one team tracking tool of its kind, after much anticipation, has released its health and fitness engine to teams outside of pro sports. The Vitamob suite of fitness tracking tools is engineered to scientifically record and assess custom workouts, nutrition, and body measurements.
Vitamob provides teams and coaches the ability to share workouts, track progress, and motivate each other to ultimately achieve more by way of friendly competition. These scientific concepts have been working for athletes like LeBron James and Tim Duncan, but can now work for people and teams everywhere. With Vitamob's suite of tracking and motivation tools athletes and teams will constantly be pushing one another to achieve more.
Vitamob also interviews leading health and fitness experts on Vitamob TV to expose the core truths behind scientifically enhancing the bodies physical capabilities.
Visit Vitamob.com today to learn more and create a free account.