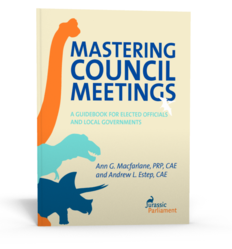 Mastering Council Meetings is an essential guidebook for running smooth and fair meetings.
Seattle, WA (PRWEB) June 27, 2013
Ideal for newly elected officials and local governments, or for seasoned leaders who want to have a more productive and dynamic meeting, Mastering Council Meetings breaks down the essentials of running a meeting.
This book extracts the essence of Robert's Rules of Order Newly Revised, 11th edition, and explains the basics in clear, practical language. The book's glossary provides easy-to-understand definitions of commonly used terms, jargon of parliamentary procedures, and Robert's Rules of Order.
Mastering Council Meetings explains the most commonly used motions, presents efficient meeting procedures and summarizes effective leadership principles. Key rules for discussion and debate are assembled into one easy-reference list; the proper use of motions is clarified with diagrams for quick understanding. Gritty examples of real-life meetings that did not go according to plan demonstrate how to respond to the unexpected, and how to establish systems and procedures to prevent disorder. The book provides specific phrases and language to use to keep things on track when folks are rude, crude or confused.
Written in a light and easy-to-read style, Mastering Council Meetings is an essential guidebook for running smooth and fair meetings. It is a comprehensive resource for elected officials of city and county councils, utility boards, and other civic bodies. Authored by Ann G. Macfarlane and Andrew L. Estep of Jurassic Parliament, it is available from Amazon and Barnes & Noble.
###
A professional registered parliamentarian, Ann G. Macfarlane has been training volunteers and elected officials in leadership and meeting procedure since 2000. A former diplomat and translator, Macfarlane has effectively melded the detail of parliamentary procedure with the practical side of interpersonal relationships in her training and materials.
Andrew L. Estep is a certified association executive and has been serving nonprofit organizations since 1994. His work with nonprofit boards of directors has given him insight into personal motivations and interactions, and a keen grasp of how dysfunctional boards can get on track.