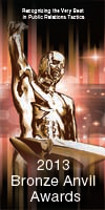 In every publication we bring the realities of children living in poverty to life.
Colorado Springs, CO (PRWEB) June 20, 2013
Compassion International received a coveted 2013 Bronze Anvil Award from the Public Relations Society of America (PRSA) for superior performance in the design and execution of a magazine within a broader public relations program.
Compassion Magazine is distributed three times per year to over 750,000 people. In addition to a wide print circulation, Compassion introduced a digital edition of Compassion Magazine in June 2013 that provides additional articles, video and robust social media applications. The digital edition of Compassion Magazine is available for download in the iTunes app store for iPad and provides readers with an interactive approach to finding out more about the ministry and work of Compassion International.
"Compassion Magazine is an important part of our sponsor and donor relationship," says Mark Hanlon, senior vice president of Compassion International's USA Group, "In every publication we bring the realities of children living in poverty to life, through engaging storytelling and powerful photography. That's even more powerful with the release of our iPad edition. We are always in pursuit of new ways to show the effectiveness and hope of our child development program."
Mickey Nall, PRSA Chair and CEO said, "I am pleased to award Compassion International with the Bronze Anvil Award, which recognizes best practices in public relations tactics. The work of Compassion Magazine represents a mark of distinction."
The Bronze Anvil Award was created by PRSA in 1969 to recognize outstanding public relations tactics. Entries are judged by teams of PRSA members — and others who have specific category expertise — across the country. Only one Bronze Anvil Award may be earned in each category or subcategory. No Bronze Anvil is awarded in those categories where the judges feel the entries do not rise to standards set forth for the award by PRSA. Other winners of the 2013 Bronze Anvil Award include companies such as Coca-Cola, FedEx, Johnson's Baby Brand and The Hershey Company.
About Compassion International
Compassion International is the world's leading authority in child sponsorship. Compassion revolutionized the fight against global poverty by equipping the Church to develop children out of poverty to become responsible and fulfilled Christian adults. It is the only child sponsorship program to be validated through independent, empirical research. Today, Compassion partners with more than 6,000 Christian churches in 26 countries to release more than 1.4 million babies, children and students from poverty in Jesus' name. Compassion has been awarded the highest rating for financial stewardship and transparency for 12 consecutive years by Charity Navigator, America's largest charity evaluator. For more information on the ministry, visit compassion.com or follow on Twitter at @compassion.
About the Public Relations Society of America
PRSA is the largest professional organization serving the U.S. public relations community. With a mission to "advance the profession and the professional," PRSA provides news and information, thought leadership, continuing education and networking opportunities; sets standards of professional excellence and ethical conduct; and advocates for the business value of public relations and greater diversity among public relations professionals. Based in New York, PRSA comprises 112 local Chapters; 14 Professional Interest Sections that focus on specific industries and practice areas; and the Public Relations Student Society of America (PRSSA), which is active at more than 320 colleges and universities.