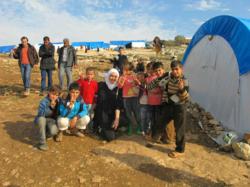 Washington, DC (PRWEB) June 20, 2013
A Syrian American has recently testified before the United States Senate Commission on Security and Cooperation in Europe about the plight of the 1.6 million Syrian refugees, particularly in Jordan and Turkey, as well as the 4.25 million internally displaced persons throughout Syria.
Syrian American Council's government relations and advocacy assistant,Yassar Bittar joined Anne Richards, Assistant Secretary for Population, Refugees and Migration at the Department of State, Michel Gabaudan, President of Refugees International and Jana Mason, UNHCR Senior Advisor for Government Relations at the commission hearing. Presiding over the hearing was Sen. Ben Cardin (D-MD) along with Sen. Whitehouse (D-RI), Rep. Hastings (D-FL), Rep. Burgess (R-TX).
In her testimony, Bittar relates what she witnessed during her first trip to Syria. "While on the border, two tents caught fire as families used candles to keep warm, killing 7 children; these children survived the landing of a mortar shell in their kitchen only to be killed by their supposed source of refuge," Bittar said. Read her testimony here.
In Bittar's second trip to the region, Bittar "saw families living in remnants of ancient buildings, and structures that once housed livestock."
The United Nations has stated that the grave situation of Syrian refugees is one of the worst in the world.