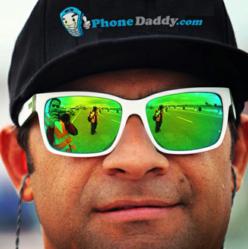 Sonoma, CA (PRWEB) June 20, 2013
Victor Gonzalez, Jr. is set to introduce personal sponsor PhoneDaddy.com to millions of new Hispanic racing fans in the Caribbean when he makes NASCAR history this weekend as the first Caribbean driver to drive in a NASCAR Sprint Cup Series race, international PR firm Silver Visibility announced today. Gonzalez, Jr. will be driving the #36 Chevrolet for Tommy Baldwin Racing in the Toyota/Save Mart 350 at Sonoma Raceway on Sunday, June 23, 2013.
"I am proud to have PhoneDaddy as a sponsor. I want my fans to know that this is a company I personally use every time I get a new cell phone, iPad or any electronic equipment," Gonzalez, Jr. says. "PhoneDaddy buys the old one from me, and makes it simple to do by mail." Gonzalez, Jr. laughs when people ask about another NASCAR driver with a similarly-named sponsor. "Danica Patrick is sponsored by GoDaddy. I am sponsored by PhoneDaddy. Too bad the Sonoma race wasn't on Father's Day!" Gonzalez, Jr. jokes.
About Victor Gonzalez, Jr.
Victor Gonzalez, Jr. previously made history in 2009 when he was the first Caribbean driver to compete in a NASCAR Nationwide Series event, finishing 14th in his debut in the 2009 running of the NAPA 200 at Circuit Gilles Villeneuve in Montreal, Canada. Gonzalez Jr. returned to the Nationwide Series for four races in 2010, making his oval track debut at Phoenix International Raceway. In 2012, Gonzalez raced in the Nationwide Series at Road America and at Watkins Glen International.
In addition to his NASCAR experience, Victor Gonzalez Jr., has won over 30 races and multiple championships in various road racing classes internationally, and 2012 won the national championship in his new naturalized home of the Dominican Republic. For more information on Victor Gonzalez Jr., please visit him on Facebook, Twitter or Instragram.
About PhoneDaddy.com
PhoneDaddy.com is a Silver Visibility brand, developed and launched under the Silver Visibility PINC label, or "Personal Incubator," best known for launching CashForPurses.com, the purse exchange site that made international headlines by offering to help Lindsay Lohan with her financial troubles, and offering to give all the proceeds to a charity of her choice. "Our personal incubator is a place where we dream up our own products, hatch them and nurture them into successful businesses. We have no outside investors and are fully self-funded, so with that kind of financial security we have the luxury of only launching products and campaigns that we are truly passionate about, at a pace that we are comfortable with," says Silver Visibility founder Trent Silver.
Victor Gonzalez, Jr. is available for interviews. Media queries and interview requests, please contact Kendall Almerico with Silver Visibility at kendall(at)clickstartme(dot)com or 813.410.4658.