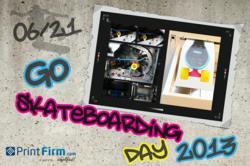 The big skateboarding brands really get the power of print advertising. They set a great example for companies in more mainstream industries because they align their brand image with an entire lifestyle through creative print campaigns. - Alex Vartanian
Los Angeles, CA (PRWEB) June 21, 2013
Go Skateboarding Day 2013 will be gnarliest on record thanks in part to bulk poster printing. Since the first GSD holiday in 2003, The International Association of Skateboarding Companies put promotional posters at the forefront of its outreach strategy. In the spirit of organized chaos, the IASC encourages local boardshops and skaters alike to spread the stoke by hosting their own events across the globe. These smaller celebrations may use the official IASC 2013 graphics kit or design their own custom posters for fun and profit.
PrintFirm.com is getting in on the GSD Los Angeles action with an exclusive CMYK themed Original Penny Skateboard and poster print. The old school masterpiece features a Cyan deck with Magenta trucks, Yellow wheels, and Black grip tape to represent the 4 color process. The poster design shows PrintFirm's CMYK skateboard moving through a Xerox iGen 4 digital press machine. Safari Surf and Sport owner Randy Beck hooked up the sweet ride with ease: "When PrintFirm said they needed a fully custom Penny, I made it happen for about the same price as a stock board. Independent skate shops like mine are the best place to go for this kind of gear because we're the heart and soul of the skate scene."
But there are more to this concept than meets the eye. The CMYK Penny poster represents the killer combo of print media and extreme sports. PrintFirm manager Alex Vartanian explains: "The big skateboarding brands really get the power of print advertising. They set a great example for companies in more mainstream industries because they don't just push products; they align their brand image with an entire lifestyle through creative print campaigns."
It's true that skate manufacturers make everyone else look like noobs when it comes to effective mutli-channel marketing. Poster campaigns are just one of the many ways skate brands connect with their core consumer base through print. Almost every skate company uses sticker printing to raise brand awareness and build customer loyalty. Some simply slap their logos on a sticker as a giveaway item with a pair of shoes or a t-shirt. Others go for the X Games Gold with crazy designs and signature collections that they sell separately. The response has been so positive over the years that stickers are now synonymous with skate culture. A few talented artists, such as Jim Phillips, made careers out of creating promotional artwork for skate stickers and decks.
Skate brands also push the limit with flyer printing for event marketing. Staying true to their punk rock roots, large brands and small skate shops have a well known affinity for putting flyers everywhere. The best part about this tactic is that it gives advertisers a tool to target influences in the community. Getting flyers into the hands of the right people generates tons of word of mouth buzz. This is especially important for local boardshops trying to get involved in epic sessions at nearby skate parks.
Social media adds another dimension to these print advertising staples. Skateboarding posters, stickers, and flyers now incorporate web addresses along with social icons and related hashtags. In fact, the 10th Anniversary Go Skateboarding Day poster prominently displays the hashtag #goskateboardingday over a famous photo recreation made up of roughly 6,000 fan pics from Instagram.
About PrintFirm.com
Printfirm, Inc., trusted leaders in online commercial printing since 1996.