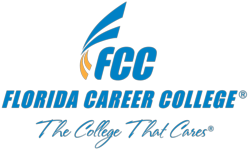 Fort Lauderdale, FL. (PRWEB) June 20, 2013
Graduating from college and entering the workforce can be a daunting experience for recent graduates. To help with the transition to the world of work, Florida Career College (FCC) career centers provide students with essential services for successful job hunting, from resume writing to interview preparation.
"In a competitive market, navigating the job search process requires specific skills in order to land a job in the career you've chosen," said Lawrence Avers, Vice President of Student Development for Florida Career College. "Florida Career College career center advisors are a valuable resource for getting our students on track to succeed and begin their careers."
Career experts from FCC share the following five tips for new graduates:
1. Resumes: Keep it simple. Highlight what you want the employer to focus on by listing your most impressive experience first. Leave out long descriptions that make it difficult for potential employers to quickly determine if you are qualified for the position. Always include a cover letter that highlights your skills and is customized for each prospective employer. Find a real person's name and avoid "To whom it may concern" and other generic greetings.
2. When it comes to an interview, you can never be too prepared. Do your homework and familiarize yourself with the history, products and services of the organization. Use this specific information in your correspondence to convey your sincere interest and enthusiasm. Be prepared to describe your experience and communicate your qualifications effectively with confidence and clarity.
3. Reflect a professional image in person and online. Employers have begun to take advantage of social media as a way to further evaluate candidates. It's important to be sure that your online presence will reinforce credibility, not diminish it. Always ask yourself: What do I want them to see?
4. Capitalize on social media networking opportunities. Social media can be used to connect with people who work in your chosen industry. Websites such as Twitter, LinkedIn and Facebook make interacting with others easier, so use these platforms strategically to your advantage.
5. Attend local job fairs. These events are a chance to network with company recruiters. Prepare for job fairs as you prepare for an interview: dress professionally, bring copies of your resume, research companies beforehand and be ready to answer and ask appropriate questions.
Florida Career College has campuses in Miami, Kendall, Hialeah, Lauderdale Lakes, Pembroke Pines, Margate, Boynton Beach, West Palm Beach, Orlando, Riverview, Clearwater and Jacksonville. For more information about Florida Career College, call 1-888-852-7272 or visit anthem.edu/floridacareercollege. Follow Florida Career College on Twitter at twitter.com/FLcareercollege and like it on Facebook at facebook.com/floridacareercollege.