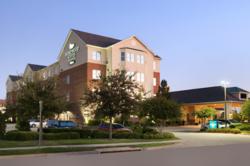 Dallas, TX (PRWEB) June 24, 2013
Travelers desiring upscale, centrally located, extended stay lodging near DFW airport have a new reason to choose the Homewood Suites by Hilton Irving-DFW Airport hotel. Owned by Apple REIT Nine and operated by Texas Western Hospitality, this welcoming property recently underwent a comprehensive remodel, with improvements to suites as well as public areas.
The remodeled guest suites include new and refurbished case goods; new sofas, ottomans, and Herman Miller desk chairs; and reupholstered kitchen chairs. New wall coverings, paint, carpet, and drapes are also part of guest suite refurbishments.
In public areas, the lobby has been remodeled with new furniture and carpet, and all corridors have been refreshed with new carpet, wall coverings, and paint. In addition, the business center has been refurbished with expanded amenities, including a new area that opens to the lobby with an additional business center terminal.
"These improvements are reflective of the Apple REIT and Hilton Worldwide commitment to providing the highest quality accommodations at Homewood Suites," said Jeff Blackman, Executive Vice President of Operations, Texas Western Hospitality.
All Homewood Suites locations, including the Irving-DFW Airport hotel, offer one and two bedroom suites, a daily full hot breakfast, and evening dinner and drinks Monday through Thursday*. In addition, the hotel boasts fully equipped kitchens, separate sleeping and living spaces, and complimentary grocery shopping services**. Recreational options include a fitness center, tennis and basketball courts, and a heated indoor pool – amenities that enable travelers to stay active, feel at home, and make life on the road more about life and less about the road.
Just three miles from DFW Airport and close to many area corporations, the property features four event rooms totaling more than 3,000 square feet, with space for groups up to 100. Complimentary WiFi is available throughout the property.
Homewood Suites by Hilton Irving-DFW Airport is located at 7800 Dulles Drive in Irving, Texas. Texas Western Hospitality (TWH), the management arm of Western International, is a vertically integrated lodging company with over 30 years of successful history in hotel development and operations. Headquartered in Dallas, Texas, TWH manages many of the finest brands, including Marriott and Hilton. TWH has grown to become one of the most respected lodging management companies in the United States, operating over 55 properties with more than 6,000 guest rooms in six states.
About Homewood Suites by Hilton™
Homewood Suites by Hilton is an upscale, all-suite, residential-style hotel with more than 300 hotels open in the United States, Mexico, and Canada. Homewood Suites by Hilton is the first choice for guests seeking comfortable, home-like accommodations when traveling for an extended stay. Beyond its spacious suites, which feature separate living and sleeping areas and fully equipped kitchens with full sized refrigerators, additional value-driven amenities include complimentary Internet; a daily full hot breakfast; and healthy, delicious evening meals with drinks every Monday through Thursday. The brand is focused on guest satisfaction and stands behind each stay with its 100% Suite Assurance® guarantee. For more information, please visit http://www.homewoodsuites.com.

Service of alcohol subject to state and local laws. Must be of legal drinking age.
** Guest pays for groceries. Other restrictions apply.