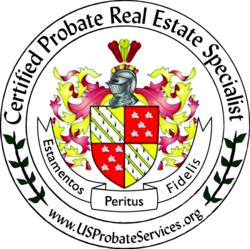 These people need someone they can trust and talk to like a friend.
Encino, CA (PRWEB) June 21, 2013
California residents living in places like Studio City, Sherman Oaks, Encino, Beverly Hills and West Hollywood now have a new option when it comes to selecting a Real Estate Professional for probate services.
Local Encino Realtor with Keller Williams Realty, David Hitt, recently obtained his certification for probate real estate services from MTI Education/USProbateServices.org. The decision could not have come at a better time. With the number of probate filings skyrocketing throughout the nation over the past year, it has become nearly impossible to make an appointment with a Certified Probate Real Estate Specialist (C.P.R.E.S.) or to seek advice over the phone. The high demand for probate real estate professionals prompted Hitt to take courses and make himself more available to residents and his clients. "These people need someone they can trust and talk to like a friend," Hitt said. "Probate is not an easy process and when you're an Executor or Administrator of a will, you can't just pick up any old book at the library or the bookstore and learn what you need to learn; you need a professional to help."
With the Probate Real Estate Certification, Hitt is able to consult on probate from the beginning of the process, helping executors and administrators make the tough decisions about selling and marketing available real estate that is going through the probate process.
Hitt has worked in the Studio City real estate industry since 1996 and assists buyers and sellers with all types of real estate including single family homes, estate sales, condos, investment, trust sales and other types of residential real estate. Hitt is available to those who are seeking assistance with selling real property in probate and counseling to help them navigate through the legal system.
About C.P.R.E.S.
C.P.R.E.S. stands for Certified Probate Real Estate Specialist. Realtors who hold a C.P.R.E.S. certification are able to legally provide consultation on estate sales and the marketing of homes that are involved in the probate process. C.P.R.E.S. agents can help clients to navigate and understand the process of Probate Real Estate including paperwork, legal ramifications and responsibilities, requirement to pay off creditors, and the financial costs of repairing a home that must go through probate and be sold. C.P.R.E.S. agents do not fill the role of an attorney but are considered a supplemental necessity, especially in the case of high power wills.
David Hitt's website