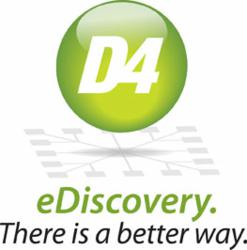 The consultative approach of PLA's Litigation Solutions Group and expertise will add immediate value to our eDiscovery managed services offerings.
Rochester, NY and Chicago, Il (PRWEB) June 21, 2013
D4, LLC, a national provider of eDiscovery, digital investigations, information management and security solutions to law firms and corporations, announced today its further expansion in Illinois with the acquisition of PLA's Litigation Solutions Group in Chicago. D4 will serve law firms and corporate clients in the Chicago Metro area and throughout the Midwest from its office in downtown Chicago.
"We have experienced a tremendous need for D4's unique eDiscovery and litigation support capabilities throughout the U.S.," said John Holland, CEO and founder, D4. "The addition of one of Chicago's premier providers will enhance our presence in the region and enable us to deliver on our vision of providing a comprehensive suite of litigation support solutions to clients everywhere. The consultative approach of PLA's Litigation Solutions Group and expertise will add immediate value to our managed services offerings."
With this acquisition, D4 is expanding its offerings in Illinois, while investing in and growing the entire Midwest team. Project Leadership Associates has performed ESI collections, processing and hosting as well as computer forensic investigations for over 200 law firms and corporate legal departments. They are widely recognized as one of the highest quality providers of eDiscovery and computer forensic services in the Midwest. Their consultants bring litigation, legal and forensic application solutions, and vast data structure and data mining experience to their clients. Becoming a part of the D4 family strengthens the group's ability to better serve law firm and corporate clients in Illinois, while expanding D4's national footprint to support local and national sales and service delivery efforts.
According to Dan Safran, Executive Vice President at Project Leadership Associates, "The divestiture of PLA's Litigation Solutions Group helps us keep focus on our full suite of legal business and technology consulting services. As the largest consultancy centered on the US legal market, PLA continues to offer our corporate and law firm litigation support operations and technology advisory services to our clients. We are pleased to have found D4, via a very rigorous search process, to drive focused eDiscovery services to our legacy clients, with the high quality they have come to expect".
John Rubens, D4 COO stated, "The additional consultative and technical expertise allows us to further support our managed services offerings and customers regionally, as well as internationally."
"The PLA Litigation Solutions group is very excited to be joining the D4 family. We have been very impressed with the management, project teams, work flows and especially the technology employed by D4. I believe the PLA team will add another dimension of eDiscovery service to an already first rate eDiscovery company," said Bruce Malter, PLA's Solutions Group leader.
The entire PLA Litigation Solutions Group staff will be joining the D4 team as part of the company's Chicago office.
About D4
D4 is a national provider of electronic discovery, computer forensics, information security and management, and litigation support services to law firms and corporations. D4 has been instrumental in helping customers realize up to a 70 percent cost reduction over previous eDiscovery solutions. Founded in 1997 in Upstate New York, D4 has grown to a national presence. With over 150 employees, D4 has offices in Buffalo, Detroit, Grand Rapids, Lincoln, New York City, Omaha, Orlando, Phoenix, Rochester, San Francisco, San Diego and Tampa. D4's State-of-the-art Tier 3 data center and operations in Rochester are complemented by electronic discovery, litigation support and paper document services throughout our other offices across the country. D4 has been recognized by Inc. Magazine as one of the fastest growing private companies in the US and is an INC 500/5000 honoree. Visit http://www.d4discovery.com for more information.
Media Contacts:
Nancy Pieretti
nancypieretti(at)gmail(dot)com
603-268-8007
Martha MacPherson
Vice President of Marketing, D4
mmacpherson(at)d4discovery(dot)com
585-512-3758
Megan Samples
Marketing Manager, Project Leadership Associates
msamples@projectleadership.net
312-876-3769