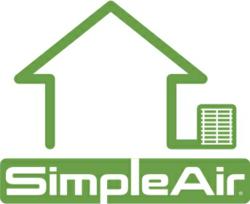 infinitee took our vision for SimpleAir and combined it with innovative design ideas to create a digital platform that was better than we could have imagined.
Atlanta, Georgia (PRWEB) June 21, 2013
infinitee, a full-service marketing and advertising agency in Atlanta, has designed and launched a new website for SimpleAir®, the consumer division of a leading HVAC products manufacturer. SimpleAir offers homeowners professional quality tools and products, allowing them to handle home heating and air conditioning maintenance and small repairs themselves. As the first comprehensive product line of its kind, a brand concept and strategy had to be developed that would differentiate SimpleAir® from its competitors and showcase its consumer applications. One tactic in this integrated marketing strategy was to develop a user-friendly website.
infinitee rose to the challenge of creating a new consumer website based on stylistic guidelines established in the brand development phase, complete with fresh design concepts, logical navigation and search optimization. With unmatched expertise in design and functionality, infinitee built and programmed more than 15 web pages resulting in a website that surpassed client expectations.
Ray Shelor, National Sales Manager for SimpleAir stated, "infinitee took our vision for SimpleAir and combined it with innovative design ideas to create a digital platform that was better than we could have imagined."
The new website will allow consumers to learn more about the importance of regular home HVAC maintenance, while also providing the opportunity for consumers to become more familiar with the DIY line of products.
All supporting collateral for the brand, including sales materials, product prototypes, point-of-purchase and point-of-sale displays, product merchandising schematics for retail environments, product purchasing programs, and product packaging were created based on the brand's standard.
For more information about infinitee, call 404-231-3481 to speak with Jocelyn Smith, visit infinitee.com or find us on Facebook.
###
About SimpleAir®
SimpleAir® is an innovative line of professional quality products that allow you to quickly and easily handle most repairs and regular home HVAC maintenance yourself. For more information, including a list of products and information on where to purchase the items, visit http://www.simpleaircare.com.
About infinitee
infinitee is a full-service marketing and advertising agency that understands how to improve brands, communications and customer experiences. With a focus on retail, real estate, B2B, destination marketing, education and financial services, its strategic and creative solutions build brand equity and drive sales for companies across all industries. infinitee's expertise has proven invaluable to national and southeast regional brands wishing to strengthen and grow its customer base, including: Tanger Outlet Centers, Cousins Properties, Parkway Properties, PM Realty Group, Athens First Bank & Trust, King's Ridge Christian School, and Royal Oak. Through all facets of advertising, collateral, digital media, or brand strategy, infinitee keeps the work real, the relationship fun, the price right and the momentum high, as they go beyond client expectations. Let infinitee transform your communications.
Contact:
Jocelyn Smith, Founder & CEO
infinitee
3400 Peachtree Road NE, Suite 921
Atlanta, GA 30326
404-231-3481