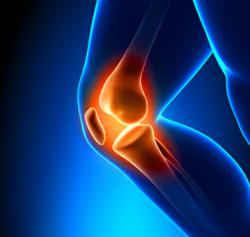 Our patients love having the option to avoid surgery with this non-invasive treatment for their knee pain.
Clearwater, FL (PRWEB) June 21, 2013
Patients that suffer from severe knee pain are not always 'jumping at the heels' for knee replacement surgeries, and not just because it hurts to jump. However, the experienced doctors at The Florida Knee and Orthopedic Centers (FKOC) have good news for those with bad knees and would like to avoid surgery. Patients are able to receive injections that restore the lubricating, pain-relieving substance called hyaluronate into their knee joint. This fluid coats the cartilage surfaces so they can move smoothly against each other and the pain-relieving substance is concentrated in the knee.
When physical therapy and normal pain killers no longer provide adequate knee pain relief, the doctors at FKOC will provide hyaluronate injections when possible. This treatment can also be particularly helpful when anti-inflammatory medicines are ineffective, cause too many side effects or are interfering with other medicines. Hyaluronate acts as a local pain reliever meaning that patients are often allowed to take any medications their doctor may have prescribed them at the same time.
Hyaluronate is actually a natural substance that is produced by every joint in the body. In healthy joints, it is a thick fluid that coats cartilage surfaces so that they may move smoothly. Knees that are affected by osteoarthritis have less hyaluronate that is so thin and watery it can no longer cushion the knee joint. This is a major cause of knee pain for individuals with osteoarthritis.
Hyaluronate is a natural pain-reliever, anti-inflammatory and lubricator which make it a great alternative to surgical procedures. "Our patients love having the option to avoid surgery with this non-invasive treatment for their knee pain. With a series of injections, the hyaluronate treatment allows patients numerous years of pain free knees without surgery" stated a representative from FKOC. This simple treatment takes just a few minutes and is done right there at the orthopedic doctor's office.
These naturally lubricating injections can be done in a variety of ways depending on the orthopedic doctor's recommendation. Patients will either have a single injection or a series of injections over a period of time to relieve knee pain and get back to an active lifestyle. There is no limit to the number of injections that a patient may have. Since hyaluronate is so similar to the natural substance produced by the human body, it is not possible to build up a resistance or become sensitive to it.
The Florida Knee and Orthopedic Centers have first-hand experience with hyaluronate as they were chosen to participate in the United States studies over a decade before FDA approval in 1997. This is a safe and effective treatment that has helped millions of patients suffering from severe knee pain due to osteoarthritis.
About The Florida Knee and Orthopedic Centers
The Florida Knee and Orthopedic Centers, established in 1983, has a national reputation for excellence in orthopedic innovations and state-of-the-art surgery. A team of orthopedic specialists treat patients at two locations on Florida's Gulf Coast. The Florida Knee and Orthopedic Centers is a multi-site group orthopedic surgical practice specializing in knee, hip and shoulder problems with an emphasis on joint resurfacing and arthroscopy. Learn more about this orthopedic practice by visiting their website at http://www.fla-ortho.com.