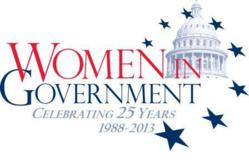 The results of this study show a "critical milestone in the fight to end cervical cancer in our lifetime". - Marjorie Maginn
Washington, DC (PRWEB) June 21, 2013
Marjorie Maginn, Women In Government's President & Executive Director, hails the recently released CDC study showing a 56.4% decrease in vaccine-type HPV prevalence among female teenagers 14 to 19 years of age as a "critical milestone in the fight to end cervical cancer in our lifetime."
The CDC Report, which will appear in The Journal of Infectious Diseases, attributed vaccination as the cause for the dramatic reduction and advocates increased outreach to vaccinate girls 13 through 17 to protect them from a life-threatening disease.
With the availability of the first HPV vaccine in 2006, Women in Government launched its "Challenge to Eliminate Cervical Cancer Campaign" and diligent efforts by women state legislators across the country led to all 50 states enacting legislation designed to combat cervical cancer. State initiatives included improving access to cervical cancer screening, providing treatment for low-income women who otherwise could not afford it, as well as education awareness initiatives targeting women, girls and parents about the link between HPV and cervical cancer and the availability of the HPV vaccine. State-level task forces were also developed to bring together key stakeholders and to design strategies to further reduce cervical cancer incidence and mortality.
Maginn also pointed Women In Government's attempt to document the state-level cervical cancer prevention efforts with its groundbreaking annual reports: "A Roadmap for Success: The State of Cervical Cancer prevention in America." Although the last report was issued in 2010, Women In Government continues to educate its 1781 state legislators on the importance of HPV screening and vaccination efforts through conference programming and online resources, such as its recently released HPV Toolkit.
Additionally, Maginn said, "We continue to look forward to the day when the elimination of cervical cancer is a reality. All women should have access to the most appropriate cervical cancer technologies, including the HPV test and vaccine. We must ensure that socioeconomic status, particularly the lack of health insurance, is not a barrier to treatment."
According to the CDC, each year about 14 million people become newly infected with the HPV virus.
Women In Government Foundation, Inc. is a non-profit, non-partisan organization of all 1781 female state legislators across the country that provides educational resources, expert forums, networking and leadership opportunities.