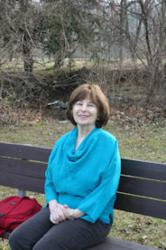 Participants will explore the connections between Gestalt practices, the arts, and high play
Silver Spring, MD (PRWEB) June 25, 2013
Rima Shaffer (http://www.rimashaffer.com/) is now a visiting faculty member of the Gestalt Institute of Cleveland. Dr. Shaffer brings over 30 years' experience in leadership development, coaching, and organizational change to this position. She served on the faculty of the Johns Hopkins University School of Professional Studies in Business and Education. Ms Shaffer has also consulted in private industry, government, and non-profit groups. She works privately as a coach and change facilitator.
The Gestalt Institute of Cleveland was established in 1954. It is the world's largest institute, and one of the finest, for the study, development, and application of Gestalt theory. Its professional and personal development programs draw participants from all over the world. Gestalt Institute faculty and graduates innovatively apply Gestalt principles to psychotherapy as well as to business, health care, educational, governmental, community, and religious organizations.
The Gestalt Institute of Cleveland offers various workshops and professional training programs and conferences in the areas of human, personal, professional, and organization development. Ms. Shaffer will provide instruction in a 3-day workshop, titled "Three-Two-One Contact!" Participants will explore the connections between Gestalt practices, the arts, and high play to clinicians, coaches and organization developers. It is specifically intended to provide direction for professional and personal development.
For more information on The Gestalt Institute, please visit the website at: http://www.gestaltcleveland.org/index.php/. The workshop includes 14.5 instructional hours. Information is detailed on the following page: http://www.gestaltcleveland.org/pdf/flyers/321contact.pdf. Interested parties can also call the Institute at 216-421-0468.