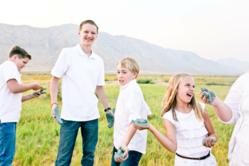 Sacramento, CA (PRWEB) June 24, 2013
From the outside, Camp Taylor is just another summer camp. Visitors can expect to find children swimming, horseback riding, climbing rock walls and bonding with peers. But the children who attend Camp Taylor are special—they all suffer from heart disease. What's more remarkable is that the non-profit camp is completely free, and the volunteer medical supervision is top notch—doctors from acclaimed hospitals like Stanford donate their time to ensure the safety and comfort of the "heart kids" and their families. This special camp offers to child patrons an incredible opportunity to abandon the stresses of their life-threatening illness and, simply, to act like kids.
Camp Taylor, operating out of northern California, won the hearts of business partners Shelly Egbert and Summer Powelson, owners of Black Rock Mud Company, and they began to concoct a fundraising plan to support the non-profit with a heart disease fundraiser. Black Rock's product, the "MUDPOT," is internationally acclaimed for their biodegradable packaging that, when planted, grows wildflowers. In addition, the anti-aging benefits offered by the facial mud mask have been validated by numerous publications, consumers, and spas. The mud, hand-harvested from the famous Black Rock Desert, is made of 100% organic ilite clay which is known to draw toxins from the skin and restore a youthful glow. In support of the Camp Taylor Fundraiser, consumers can get the product for a discount, and 25% of proceeds will be donated to the non-profit from now until August.
In an effort to support the fundraiser, day spas and salons across California, Nevada and Arizona have offered their own philanthropic gestures. Collectively, the spas have tens of thousands of dollars' worth of vouchers up for grabs. In addition to a MUDPOT, purchasers in these states can expect to receive a gift voucher to their nearest participating location as a thank you for giving back.
To find a participating spa and salon or to purchase a "MUDPOT" in support of Camp Taylor, go to kindreddeals.com. For information on how you or your business can participate, call (775) 544-5131.