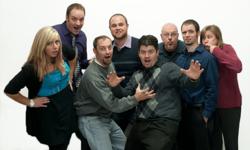 "The most trusted sign company in Metro Detroit"
Troy, MI (PRWEB) June 24, 2013
What's get you up in the morning? According to SIGNARAMA in Troy, MI, it's the challenge of building the next wacky custom sign. This fun bunch of sign builders has over fifty years of combined sign knowledge and over 25 years of experience managing corporate accounts large and small. They are truly driven to overachieve in all areas of sign manufacturing, installation and project management. With top of the line automated sign equipment and the most advanced printers in Michigan, they are ready to produce large scale electrical signage and fast sign printing for any project. Now, they are excited about their new partnership with Vantage LED, a U.S. based manufacturer of LED displays.
"We literally produce everything in house. No job is too small… Or too large," stated Mike Stephens, Outside Sales for SIGNARAMA Troy.
Since 1998, they have continued to grow the business and expand into additional markets while gaining an abundant amount of experience in many core areas. One major focus has been becoming the leaders in the LED message sign market in Michigan.
Mr. Stephens explained, "Vantage LED came highly recommended from a trusted colleague in the sign industry that had gained early success teaming up with them for LED signs."
SIGNARAMA Troy was one of the first sign companies to purchase a LED sign from Vantage LED, a U.S. based LED sign manufacturer in Corona, CA. They purchased the sign in 2003 for a local medical office owned by Dr Hasbany. It featured a unique modular concept which allowed easy replacement of LED panels, if service was required. This came to their advantage on this project when the sign was literally struck by lightning within 2 weeks of initial installation. They were able to replace only the damaged sections. The sign is still operating strong today.
"The hardware has been in the field for over 10 years and stands as a prominent LED Message Sign in the area even as technology has changed. This project helped break us into the LED sign market in Michigan. It was one of our flagship projects and we will always be proud of it," Mr. Stephens added.
While they realize that a client's sign is a serious landmark for their business, SIGNARAMA Troy believes that not only should the sign be perfect, but that their client has a great (and memorable) experience.
"As soon as you visit SIGNARAMA Troy's website and see that great team picture on the About Us page, you will be hooked. Your experience will be one you will want to share. I am truly excited about our partnership." added Deacon Wardlow of Vantage LED
SIGNARAMA Troy is very excited about LED message signs because, "they give business owners, school districts, church organizations, and just about any type of business the opportunity to advertise and communicate to the public directly. They allow for an unlimited number of messages easily sent from the comfort of your office computer." according to Mr. Stephens.
SIGNARAMA Troy is eager to educate and show Michigan how this investment can grow their clients' businesses or organizations, and of course, the fun they can have to.
"That's just how we do things." Mr. Stephens summed up.