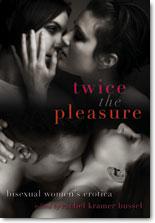 "Daring and adventurous, the women in these stories take risks by stepping outside their comfort zones."

—Daily Loaf
(PRWEB) June 21, 2013
The Advocate recently published an article on bisexual identity in relation to Lindsay Lohan's "coming out" as heterosexual. Instead of condemning Lohan for her refusal to identify under the label of "bisexual," Rachel Kramer Bussel, editor of Twice The Pleasure: Bisexual Women's Erotica, explains the importance of welcoming all varieties of sexual identity. Many people who are attracted to more than one gender choose not to use the label of bisexual, and, according to Bussel, this needs to be more widely accepted. Bussel seeks to increase the visibility of these people by including them in her fictional stories with Cleis Press; even in her more straight-focused anthologies like Gotta Have It, which is in the top ten best-selling romance audiobooks, Bussel tends to feature queer characters and story lines.
Shiri Eisner further commented that "one of the 'rules' for bisexual women in the mainstream media is that you can only get publicity if your bisexuality can be perceived as 'not real,' 'just a phase,' 'really straight,' etc. The fact is that the mainstream media isn't interested in bi women speaking politically about bisexuality — it's only interested in perpetuating the stereotypes and therefore spotlights whoever can assist in reinforcing that." The Advocate argues for a broader definition of identity, one that doesn't demand labeling.
Rachel Kramer Bussel hosts SRO readings around the country. Based in New York City, she is a prolific erotica editor, and her titles include Spanked, He's on Top, She's on Top, Passion, and Do Not Disturb.