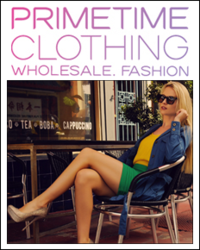 Los Angeles, CA (PRWEB) June 20, 2013
Primetime Clothing, one of the leading wholesale apparel and accessories distributors in the Los Angeles area, is pleased to announce that they are now offering wholesale summer dresses and discounts on their collection of summer pieces.
Primetime Clothing is an established wholesale clothing distributor that has been offering wholesale fashion to the general public for 25 years. Their styles are current, high quality, fashionable and affordable. They offer clothing for all seasons, and their lineup of summer dresses is quite impressive. Their collection of these seasonal dresses includes maxi-length, mid-length and mini-length dresses. In addition, their summer dresses come in a wide range of styles, colors and sleeve options (short sleeved, straps and sleeveless).
In addition to offering a collection of stunning, high quality summer dresses, Primetime Clothing also offers a range of wholesale accessories that are perfectly suited for the summer season. These accessories include handbags, shoes and jewelry. Normally, these items are offered at a fantastically low price, but the recent announcement of a discount on these summer items makes them even more affordable.
About Primetime Clothing:
Primetime Clothing has been providing a wide range of wholesale fashions for men and women for 25 years. They receive shipments of high quality goods from top-notch manufacturers and importers who are located in the Los Angeles area on a daily basis. They then pass these goods onto the general public at amazingly low prices. To find out more about Primetime Clothing, visit http://www.primetimeclothing.com/.