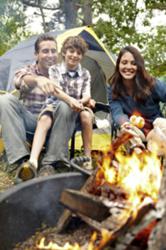 Lincoln, RI (PRWEB) June 20, 2013
Campfires and fire pits can make great backyard accessories by creating a relaxing environment that the whole family can enjoy. But keep in mind that these fires can be very dangerous.
The Federal Emergency Management Agency (FEMA) reports that an estimated 176,100 intentionally set outdoor fires occur annually in the United States, and they result in approximately 20 deaths, 250 injuries and $23 million in losses.
That's why Amica Insurance is offering the following tips from FEMA and the National Fire Protection Association on campfire and fire pit safety:

Check with your town or local fire department for any restrictions before starting a fire. If required, obtain the proper permits.
Be sure to closely supervise children and pets around the open flame, and never leave the fire unattended.
Campfires or fire pits must be at least 25 feet away from anything that can burn.
Never use gasoline or other flammable liquids to light a fire. Do not place any flammable or combustible material near the fire.
Have a shovel and lots of water nearby. When you are done with the fire, generously pour water on it to drown the embers. Stir the embers and ashes with a shovel, and add more water if needed. Continue this process, and do not leave until all material has turned cold.
About Amica Insurance
Amica Mutual Insurance Co., the nation's oldest mutual insurer of automobiles, was founded in 1907. The company, based in Lincoln, RI, is a national writer of automobile, homeowners, marine and personal umbrella liability insurance. Life coverage is available through Amica Life Insurance Company, a wholly owned subsidiary. Amica employs more than 3,200 people in 40 offices across the country.
CONTACT: Vince Burks, Corporate Communications, 50 Amica Way, Lincoln, RI 02865-1155, 800-652-6422, ext. 24563
Twitter: Amica
Facebook: Amica Mutual Insurance Co.