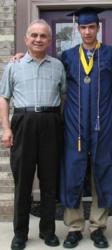 I chose to give the Graduate Insight Assessment this year because I love knowing that I'm giving a gift that helps set a graduate up for success in the next chapter of their life. - Stephanie DiMora
Rochester Hills, Michigan (PRWEB) June 21, 2013
Magnet Consulting, a wholly woman-owned people engagement consulting firm, announced details today on their launch of a new product offering, the Graduate Insight Assessment. The Insight Assessment provides High School and College graduates with insight into the 'dark' side of personality, the derailers that can come out under stress. Stress that graduates might encounter during their first year away at school, while looking and interviewing for a job, or navigating being back at home with parents.
The Graduate Insight Assessment includes an online assessment and virtual coaching session with an experienced professional coach who will guide the graduate through their results and instruct them on ways to avoid triggers and control negative reactions when faced with stressful situations. "I chose to give the Graduate Insight Assessment this year because I love knowing that I'm giving a gift that helps set a graduate up for success in the next chapter of their life," Stephanie DiMora, Homeschool Teacher and Executive Glue, Rochester, Michigan.
The Graduate Insight Assessment can also help graduates understand the types of work they like to do and the best settings for them to thrive. They may find they prefer working individually as opposed to a team environment, with more independence and less structure. Their Magnet Coach will explain how their personality insights can impact the types of positions and companies that will be a best fit.
Graduates receive a gift certificate for the online assessment and virtual coaching session, with a personalized message from the giver.
Magnet Consulting is a full-service strategic people engagement consulting organization, creating employee selection, leadership development, __title__ ] and retention practices. Magnet specializes in shaping positive organizational cultures and in leader and executive assessment and development. Their background as organizational psychologists spans multiple industries and organization sizes.