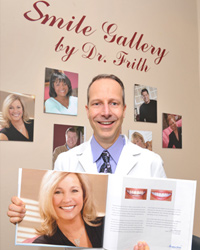 St. Louis, MO (PRWEB) June 25, 2013
Masterpiece Smiles, by Dr. Micheal Frith, is currently offering patients "Options for A Beautiful Smile," a summer promotional program. Cosmetic dentistry patients can now visualize what a new smile could look like with cosmetic treatments by Dr. Frith. Using the new "Snap/Viper Imaging" (before and after imaging), patients can review the new look with a no charge consultation.
With "Options for A Beautiful Smile," patients will receive a complementary consultation to review the options offered by Masterpiece Smiles. Dr. Frith's office suggests the consultation as a way to learn about the most effective treatments for each patient. Several of the latest cosmetic dentistry technologies are offered as a part of the program at a discounted rate. Included in the treatments offered are: bonding (with a savings of 10%), braces (save $500), white composite fillings (save 10%), gum re-shaping (save 10%), porcelain crowns or veneers (save $100) and all teeth whitening or bleaching (save $50 to $100).
About Masterpiece Smiles and Dr. Michael Frith:
At Masterpiece Smiles, Dr. Michael Frith is St. Louis's first accredited cosmetic dentist by the American Academy of Cosmetic Dentistry. This distinction is awarded to less than 1% of cosmetic dentists nationwide. Dr. Frith was named one of the Top Dentists in St. Louis Magazine in 2009, 2010, 2011, 2012 and 2013.
Masterpiece Smiles feels that every smile should be a work of art. As one of the leading St. Louis cosmetic dentistry and general dentistry offices, Masterpiece Smiles work with patients to create a custom look that is not only attractive, but natural looking.
Masterpiece Smiles provides cosmetic dentistry, general dentistry, orthodontics and more to the entire St. Louis area, including, Ellisville, Wildwood, and Chesterfield. Contact Masterpiece Smiles and Dr. Frith today to set
up an appointment and to see how the professionals at Dr. Frith's office can turn your smile into a masterpiece.
Visit the office at:
269 Clarkson Road, Ellisville MO, 63011 United States
Contact Masterpiece Smiles and Dr. Michael Frith at their website:
http://www.drfrith.com/index.html or call (636)394-5200