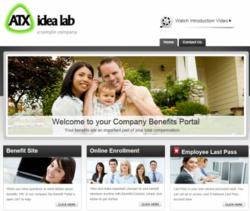 AOR Technology is committed to help benefit agencies attract and win new business using best-in-class technology and support. - Jeff Hill, CEO
Austin, TX (PRWEB) June 21, 2013
Until now, agencies have traditionally been required to pay a fee to have a custom branded benefit portal built for upcoming prospect meeting presentations in an effort to engage new business. The feedback from agencies nationwide was they would like to have more opportunities to present the custom portals but they had to choose which prospects or clients were large enough to warrant a fee. To meet this need, AOR Technology is pleased to announce its new program of offering unlimited free demo sites for any agency's clients or prospects.
Presenting a site already live on the web with the company's logo, branding, and contact information clearly makes an impact on a prospect or client, and helps employers to understand how these sites work and how they can be live and available to employees in a short amount of time. The decision to offer the same level of prospect site support ties directly to AOR Technology's core belief and commitment to benefit agencies to help them attract and win new business using best-in-class technology and support.
Benefit and HR portals have become more and more vital to employers and HR professionals who rely on these sites to effectively communicate benefit changes, healthcare reform updates, and all aspects of employee human resources. The portals also have become the home for required SBC documents (view a sample SBC here) that must be posted in electronic or print format with specific guidelines from government. AOR Technology portals meet this federal guideline while at the same time providing a custom-branded company portal.
About AOR Technology
AOR Technology, Inc. custom designs HR and benefits portals that simplify management, lower barriers to access, and promote effective communications. AOR Technology works with brokers and their employer groups to centralize benefits, payroll, and wellness resources on a single platform, which is accessible via a single sign-on feature, making critical information instantly available from any desktop, laptop, tablet, or mobile device with Internet connectivity. For more information, visit http://www.aortechnology.com.
For editorial information, contact:
Jeff Hill
AOR Technology
817-897-0947