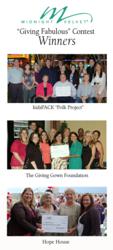 We developed this contest to celebrate & recognize people who inspire change and make a difference in their communities.
Monroe, WI (PRWEB) June 25, 2013
Beautiful in spirit. Strong in character. This encapsulates the 2nd Annual Giving Fabulous Contest held by Midnight Velvet, Inc. Almost 600 nominations were received for giving, caring, and dedicated individuals. Three nominations were chosen and each nominee was given the opportunity to choose a nonprofit organization that Midnight Velvet will donate $5,000 to. The winners are from Texas, Florida, and Idaho.
Adina Walker in Tomball, Texas from "The Giving Gown Foundation" was nominated by Brenda Angelini. In her nomination Brenda wrote, "The foundation is dedicated to promoting confidence and self-esteem to junior and senior high school girls. The mission is for each girl to be treated with respect, grace & love. . .regardless of their financial or family circumstances." The Giving Gown Foundation was founded in 2007 by JoAnn Trchalek. http://www.givinggown.org/
Donnalee Velvick-Lowry was nominated for founding and directing Hope House in Marsing, Idaho. Toni Middlebrook shared in her nomination essay, "It's called Hope House and it exists to provide a home for children in need. The majority come from difficult family situations or failed adoptions with serious attachment issues." http://www.ahome2come2.com/
Randy Browning was nominated for his work with KidsPACK in Lakeland, Florida. Shawna Butler, nominator, wrote in her essay, "In May 2011, Randy Browning was shocked and concerned after reading in the Gallop Poll that his community, Polk County, Florida, was the 3rd worst county in the nation when it came to child hunger." As a father, and local business owner, Browning formed the kidsPACK charity with a singular mission to feed hungry kids. http://www.kidspack.org
This is the second year Midnight Velvet has offered this contest. "We developed this contest to celebrate and recognize people who inspire change and make a difference in their communities," says Ann Bush, Midnight Velvet President. "For over 25 years, we have been celebrating beauty inside and out. We wanted to give back to our customers and the communities they are involved in." More details about Midnight Velvet's corporate giving are available on the website: http://www.midnightvelvet.com.
About Midnight Velvet
Founded in 1987, Midnight Velvet sets out to create a distinctive shopping experience with dramatic fashions, glamorous jewelry and exotic home décor that invites our customers to express their individual style and confidence. Located in Monroe, Wisconsin, Midnight Velvet is a family-owned catalog company. Visit http://www.midnightvelvet.com.