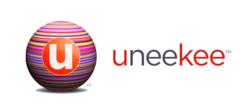 "No longer are design-savvy shoppers limited by what retailers consider to be hip, trendy, or fashionable. Uneekee puts the power of custom design into the hands of both shoppers and interior decorators." Kara Parsons, CEO and Founder of uneekee.com
San Francisco, CA (PRWEB) June 21, 2013
A Revolution in Customization for Consumers and Interior Design Professionals
Wanting to find a way to reward shoppers with the ability to create their ideal graphic design, pattern, or print, in their desired color and size, Parsons teamed up with a like minded technology partner - PatternCooler. Using patented technology available exclusively at uneekee.com, customers begin by choosing one of over 220 unique patterns that can be customized with unlimited color and size combinations. They can change the scale of the pattern, randomly shuffle color combinations, or create a more precise color match with the color selection tool. Interior decorators will be able to meet their clients' unique wants and needs by color matching paint swatches or fabric pieces to create customized bedding, pillows, or throw blankets.
A Marketplace for Artists and Designers
In addition to the pattern generator tool, uneekee also offers consumers curated designs
from a vibrant community of artists and graphic designers. Through uneekee, artists have an
ecommerce marketplace and platform that allows them to easily apply their art and designs
to a variety of quality home products. Artists and designers submit creative content for review
through uneekee.com; if their work is accepted for production, their custom merchandise goes
live within 10 days. San Francisco residents Jorey Hurley and Alex Zecca are among the first
artists to share their designs on uneekee. Artists from Seattle and Denver have followed and more are slated to come on board soon.
A Wide Range of Quality Products, Affordably Priced
Parsons has launched the collection with some home and fashion basics such as woven and burlap floral pillows, brightly colored glass cutting boards, chevron shower curtains, houndstooth window coverings, animal print rugs, as well as table linens, velveteen blankets and microfiber bedding. New merchandise will continue to arrive in the next several weeks that will round out the home assortment to include seating, lighting, and ready-to-wear fashion.
Founded in 2013 by Kara Parsons, uneekee aims to bring customized home decor and fashion accessories to consumers everywhere. uneekee is a privately held company, with offices in San Francisco.
Press inquiries can be directed to press(at)uneekee(dot)com.