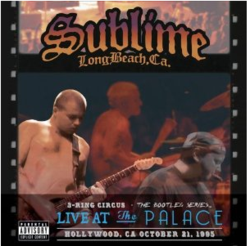 It's a rare privilege to work with such a legendary band.
Hollywood, CA (PRWEB) June 20, 2013
SonicPool Post Production has completed DVD authoring and menu design for Sublime's concert series "3 Ring Circus – Live at the Palace."
Sublime, the ska punk band responsible for hits like "Santeria" and "What I got," recorded and performed the concert series in Long Beach, California, in 1995. The concert, 3 Ring Circus, was one of the band's few recorded performances with the late frontman/songwriter/guitarist Bradley Nowell. SonicPool Post Production provided all the encoding and authoring for the DVD, which includes 78 minutes of performance, remastered and remixed multi-source live audio culled from the original master tapes, as well as original menu design for the DVD.
Marcus Ionis of SonicPool Post Production says he's honored to have worked on the project. "It's a rare privilege to work with such a legendary band and hearing so many of their greatest hits. Hearing the live mix in DTS and DOLBY makes the experience even better."
The DVD package includes Sublime's first official full-length concert video, which features the newly edited Palace performance using the Rock-Steadi-Cam Hi8 video. It also includes recently discovered 16mm and Super 8 film footage, the original Rock-Steadi-Cam HI8 unedited Palace concert video, and a bonus DVD concert video of Sublime live at the Las Palmas Theatre, circa. February 1995.
Ionis says, "Sublime fans won't be disappointed in the quality of this DVD." Sublime's "3 Ring Circus – Live at the Palace" is currently available for purchase.
SonicPool Post Production is located at 6860 Lexington Ave, Hollywood, CA, 90038.For more information about SonicPool, call 323-460-4MIX, or check out the website at http://www.sonicpool.com.