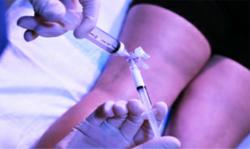 "This treatment is popular because it is minimally invasive and virtually pain-free,"
New York, NY (PRWEB) June 22, 2013
This month, New York Cardiovascular Associates in New York City is announcing the launch of a new campaign to provide education about the vein disease treatment sclerotherapy. This popular treatment option is particularly useful for spider veins and small varicose veins.
People with fine spider veins located close to the surface are ideal candidates for sclerotherapy. "This treatment is popular because it is minimally invasive and virtually pain-free," explains a center specialist. "A chemical agent is injected into the diseased vein, causing the vessel to close off and gradually disappear." Sclerotherapy can be performed quickly and does not result in down time, making it a good choice for today's busy lifestyle.
The New York-based vein center is experienced in providing relief to people suffering from spider veins. They are using popular social media sites to distribute information on sclerotherapy, including Facebook and Twitter. The center is also providing an informative video on the topic.
While not a severe medical threat, spider veins are unsightly and can cause embarrassment. Understanding the treatment options for this type of vein disease can empower the public to make informed choices about their vein care.
For more information, visit:
Nycva.org
Varicose Vein Treatment Options
Vein disease affects tens of millions of people in the U.S. alone. One of the most common vein disorders is varicose veins. Varicose veins and spider veins can significantly impact a patient's health and quality of life. New York Cardiovascular Associates provides a number of effective treatment options for varicose veins and spider veins.
Vein treatment at New York Cardiovascular Associates may include lifestyle changes, or a procedure to eliminate or reduce the appearance of abnormal veins. These treatment options include sclerotherapy, ambulatory phlebectomy, endovenous laser ablation, and radiofrequency ablation. Varicose vein removal procedures are minimally invasive, and are performed on an outpatient basis to ensure faster recovery times with optimal results.
About New York Cardiovascular Associates
New York Cardiovascular Associates is New York City's premier center for cardiac, vascular, pulmonary, sleep disorder, and primary care. The center has been providing the five boroughs of New York City with leading-edge care since 2005. New York Cardiovascular Associates is unique in giving patients access to a team of physicians that encompasses every field of cardiology. From the center's Manhattan office, NYCVA cardiologists provide complete patient services, including heart disease prevention, cardiac screenings, and treatment for the full range of cardiovascular conditions. In addition to superior cardiac care, New York Cardiovascular Associates provides vascular, arterial, pulmonary, and internal medicine care. Physicians and specialists work together to develop comprehensive treatment plans, whether treating patients for a single condition or for multiple health issues. NYCVA has earned multiple national accreditations, and its doctors and technologists are recognized among the top experts in their fields.
New York Cardiovascular Associates
http://www.nycva.org
Tel. 646-233-1838