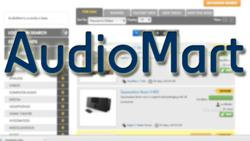 What promises to evolve is a marketplace molded and shaped by the audio community FOR the audio community.
Pittsburgh, PA (PRWEB) June 22, 2013
AudioMart, a new web marketplace for music and movie enthusiasts to buy and sell used hi-fi audio equipment, has made its online debut.
AudioMart arose from the void in today's used hi-fi audio online marketplace. Responding to the need for a newer, simpler, fresher interface to buy and sell used high end audio equipment, AudioMart has positioned itself uniquely in the high end audio community, offering a meeting place that is faster, more user-friendly, more socially integrated, more secure, and ultimately more satisfying to audiophiles everywhere.
Allowing buyers and sellers to provide feedback as they use and explore the functionality of the site, AudioMart is in its beta stage, free of charge to those who wish to buy, sell, or place ads. Users can find everything from cool headphones to high end speakers for sale, and everything in between.
AudioMart is the brainchild of Mark Mawhinney from Pittsburgh, PA, manufacturer of the Spin-Clean Record Washer and retail store owner of hi fi audio companies such as Northern Audio and Music To My Ear.
"With AudioMart, we're committed to bringing an online marketplace back where it belongs – in the hands of its users," explained Mawhinney. "What promises to evolve is a marketplace molded and shaped by the audio community FOR the audio community."
In addition to being completely free for individuals, dealers, and manufacturers to join and use AudioMart, the new online marketplace is built on the latest web technologies: HTML5, CSS3, and Twitter Bootstrap.
AudioMart also boasts features at no extra charge to its users, including: search and filter capabilities that are fast, easy, and robust; social media integrations, adding a sense of community; the ability to add video and multiple images to ads; location-based services, providing real map results; and, for dealer storefronts, non-expiry listings, plus "buy it now", quantity, and automatic shipping fee options.
"We pride ourselves on being very receptive to customer feedback," remarks Mawhinney. "We're implementing new features and functionality every day. We want to hear from music lovers and audiophiles everywhere to find out what they would like to see and use on AudioMart. In the meantime, I encourage everyone to sign up, get started buying and selling, and have fun!"
Those interested in learning more about AudioMart can do so by calling AudioMart directly at 1-855-400-MART.