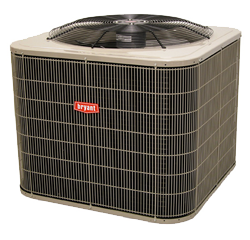 St. Louis, Missouri (PRWEB) June 21, 2013
Consumers are demanding better efficiency in just about every aspect of their homes and air conditioning manufacturers are responding to the demands. Less than 10 years ago the minimum efficiency requirement was a SEER rating of 10. Now the standard is 13, but many units have ratings in the 20's -- meaning home owners can have more than double the efficiency they had 10 years ago. It is only a matter of time before the requirement rises again and AC manufacturers are striving to get ahead of the curve.
Much like a computer or a cell phone slows down year after year until it is ultimately outdated, an air conditioning system begins to lose efficiency over time (especially if it is not maintained regularly). Air conditioning systems are given a Seasonal Energy Efficiency Ratio (SEER) rating to measure their efficiency level and manufacturers are given a minimum requirement that all new systems must meet.
A SEER rating is based on several factors, but simply put, it is a measure of the amount of electricity required to run the system. Systems manufactured today have ratings that range from 13-24. The higher the rating, the more efficient the system will be. With proper care and maintenance, an air conditioner can have a lifespan between 15-20 years, but that doesn't mean it isn't costing more and more each month for the home owner to run. Home owners are getting the message and many are replacing older working units with new units that offer better efficiency in order to save money and reduce their carbon footprint.
Other factors impact an air conditioning system's efficiency including the quality of the unit to begin with, how it was installed, and whether or not it is regularly maintained. Regular maintenance a few times a year can help keep air conditioning systems running as efficiently as possible and may even help increase their lifespan. Home owners should change filters regularly, invest in a programmable thermostat, and be aware of any changes that may be impacting the air conditioning systems ability to run efficiently. Strange noises or louder operating sounds than normal, inability to keep the house cool, cycling on and off quickly, or staying on for long periods of time may indicate a problem with an air conditioning system that should be assessed by a licensed and trained technician.
For more information about air conditioning efficiency and SEER ratings, Missouri residents are encouraged to contact Bryant Comfort Heroes at http://bryantcomfortheroes.com/.