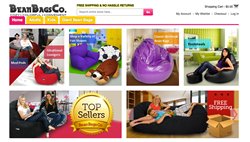 Known for their already low prices, Bean Bags Co. is offering consumers the opportunity to buy a variety of fun and comfortable bean bags at a price that doesn't break the bank. This 40% off is applied to all inventory items
Orange County, CA (PRWEB) June 22, 2013
Leading provider of bean bag chairs, Bean Bags Co., has announced a summer inventory sale. In this sale, Bean Bags Co. is slashing prices on all of their inventory up to 40% off. This sale will not last long, so consumers are encouraged to shop early in order to take advantage of the summer prices.
Known for their already low prices, Bean Bags Co. is offering consumers the opportunity to buy a variety of fun and comfortable bean bags at a price that doesn't break the bank. This 40% off is applied to all inventory items without the need for a checkout or promo code. Coupled with the free shipping on all items, this summer inventory sale promises to be extremely wallet friendly to consumers.
Bean Bags Co. offers a wide selection of bean bag chairs for adults and bean bag chairs for kids. With a variety of plush fabrics and designs, these are stylish chairs that will look great in any room. While the kids are home for summer, a bean bag offers the perfect place to color, read, and to play. For adults, these quality bean bags make a great place to gather for parties, movie nights, and more.
The wide selection of bean bag chairs that Bean Bags Co. carries are known for their comfort. Unlike the old grainy feeling that decades old bean bags had, these are plush. Customers have described these chairs as like laying in a puffy cloud. No longer can customers feel grainy filings. Instead, these models are high tech upgrades that envelope customers in a cloud of comfort.
Bean bags are the perfect place to enjoy a nap as well as a comfortable perch from which to enjoy movies or conversation. Popular models such as Big Maxx, Sitsational Loungers, and Big Joe offer customers furniture replacement options that can both enhance a room's style and offer extended seating. Easy to care for and easy to clean, bean bag chairs are fast becoming a go to accessory this summer. When families pack up for vacation, it's easy to grab their beloved bean bag and hit the road to that summer rental. This portability ensures families will always have a comfortable piece of home with them on vacation.
Consumers eager to experience comfort and style are encouraged to shop Bean Bag Co.'s huge summer inventory sale. With low prices and top designer brands, there's something for everyone.
About Bean Bags Co: Bean Bags Co. is a trusted provider of adult bean bag chairs, kids' bean bag chairs, and giant bean bag chairs. Featuring everyday low prices, huge selections, and quality furniture, Bean Bags Co. is the ideal resource from which to purchase bean bags for every occasion and need. Consumers are encouraged to visit http://www.beanbagsco.com for more information.
Content Provider: Orange County SEO