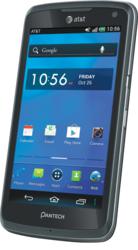 Atlanta, GA (PRWEB) June 21, 2013
Pantech Mobile, the innovative and leading wireless device manufacturer and U.S.-based subsidiary of Pantech Co., Ltd will offer the Android 4.1.2 Jelly Bean Operating System upgrade for the Pantech Flex smartphone starting June 21.
The Android Jelly Bean upgrade, available over the air, will make all current functions even faster, smoother and smarter while adding core Android 4.1 features to the already feature-rich Pantech Flex smartphone. New Flex Jelly Bean feature improvements include: Google Now, which will allow Flex users to automatically receive relevant information when they need it based on their interests, activities and habits, including weather, sports, shopping, restaurant reservations, airline and hotel itineraries, package tracking, upcoming events and more; Google Voice search activation system provides personal results based on your location and AT&T Drive Mode, which automatically lets callers and texters know when users are behind the wheel. Other useful improvements include an expandable and actionable Notification Bar which allows for the easier return of calls, sending and scanning multiple emails and sharing photos directly from your notification panel.
Pantech unveiled the Flex in September of 2012 as the first smartphone at AT&T to offer customers a unique dual user experience in one device. Users are provided the option to choose between the Pantech Standard Experience, a traditional Android operating mode and Pantech Easy Experience, a more intuitive user experience ideal for new smartphone users.
"It's important for Pantech Mobile to continue to deliver the latest mobile technology to our consumers," said Pantech Mobile Director of Marketing Erin Magee. "We are excited to offer the Android Jelly Bean Operating System to our Pantech Flex customers, elevating their mobile experience with the best technology available."
In addition to its dual user experience options, the Pantech Flex weighs only 4.6 ounces and has a slim design that makes it easy to slip into a pocket or purse. Flex features a full touch 4.3-inch qHD Super AMOLED display for a vibrant picture and a 1.5 GHz dual-core processor. The intelligent Pantech SwiftKey keyboard technology makes typing a breeze – it minimizes key strokes by learning a user's natural language for more accurate word predictions and corrections. Flex also features an eight-megapixel rear facing camera with 1080p HD video recording capabilities and a two-megapixel front facing camera.
Pantech Mobile supports AT&T's It Can Wait® campaign to end texting and driving. To take the pledge and see a list of supporters, visit http://www.ItCanWait.com. For additional information and resources, visit http://www.att.com/itcanwait.
About Pantech Mobile
Pantech Wireless, Inc., an Atlanta based subsidiary of Pantech Co., Ltd., researches, markets and develops wireless handsets, tablets and telecommunications products throughout North America as part of the Pantech Group. For additional information, visit the Pantech Mobile website at http://www.pantechusa.com and connect socially on Facebook, Instagram, Twitter and YouTube.