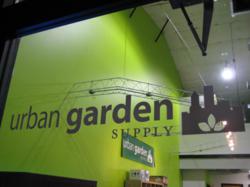 Portland, Oregon (PRWeb) 06/20/2013 (PRWEB) June 22, 2013
Urban Garden Supply is hosting their annual Block Party Blowout on June 29th &30th. They are offering 30% off all store inventory to show their appreciation for their customers. These savings will be offered beginning June 24th and will continue through the end of the Block Party Blowout on June 30th. The discounts will apply to all products including LED growlights, hydroponics systems, ballasts, hoods, HID growlights, grow mediums, advanced nutrients, Botanicare products and more!
The Block Party Blowout features many great musical performers and will be headlined by Aceyalone and Rising Buffalo Tribe. Aceyalone is a rapper from Los Angeles, California who has a large following in the Hip Hop world*. Rising Buffalo Tribe is a reggae band who are on a mission to bring authentic roots sounds to their audience**.
The event is hosted by My-G from Indamix Records and will feature guest DJ's including DJ Wicked, DJ Spark and DJ Welz. 25 additional musical acts will be performing which include many local performers as well as acts from around the world. Performers include Jagga Culture, Dee Arthur, Serge Severe, Bad Habitat, Rafael Vigilantics, Rose Bent, Al One, Destro, Cypress Jones, Two Planets, Mic Crencshaw, Sindicate, and many others! There will also be BBQ, a beer garden, prizes, raffles and SWAG!
In addition to the performances, there will be industry representatives onsite. They'll be able to give customers information on their products. Featured businesses include Sunlight Supply Inc., Advanced Nutrients, House & Garden Nutrients and General Hydroponics.
Urban Garden Supply has over 50 years of gardening experience and has quickly become the premier indoor garden destination in Portland, Oregon. They carry a large selection of everything needed for your indoor or outdoor garden including hydroponic systems, advanced nutrients, LED growlights and more. Urban Garden Supply is conveniently located near I-205 in Milwaukie, just outside of Portland on 82nd Avenue.