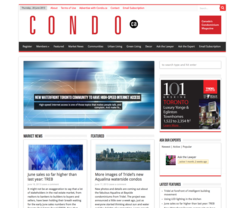 Toronto was short-listed for the Intelligent Community Forum "Intelligent Community of the Year" award.
Toronto, Ontario (PRWEB) June 20, 2013
This week's Condo.ca, the magazine about everything condo, reports that the housing market shows no signs of collapse as predicted by the "legions of bubble mongers," but is on track for a soft landing, as more temperate analysts have forecast. May saw the best monthly sales across Canada in nine months, and Toronto's market for the first half of June surpassed the same period last year, the first year-over-year increase since last summer. Predictions are that the rest of the year will be good, and 2014 even better. One of the newest developments making waves in Toronto is a new waterfront condominium that will be wired for super-high-speed Internet. With standard 100mbps access and the option for up to 10 gigabits, this will truly set the bar for residential connectivity. Read these and other urban lifestyle and condo-related stories at Condo.ca.
"First noteworthy increase in home sales in nine months: CREA"
Since July 2012 when the federal government imposed tighter lending requirements on mortgage applicants, the housing market has dropped. This was the intended consequence of the government's action. But many have said since then that the market, especially in Toronto, and especially the condo segment of that market, is unsustainable. But the sales numbers tell a different story. Throughout the spring, sales have been coming back to close to 2012 levels, and in May, with a monthly rise of 3.4 per cent, the Canadian Real Estate Association said it was the first "noteworthy" increase in nine months. Days later, the Toronto sales numbers for the first half of June showed an even larger increase, with sales surpassing those of a year ago. Condo sales, which had dropped in previous months, were also up. Read more...
"Canada's Fastest Internet Comes to Toronto's Waterfront "
Canada has been falling behind the world's leaders—Japan, Hong Kong, parts of Europe—in terms of high-speed broadband access, but the city of Toronto has been working to correct that. In fact, Toronto was short-listed for the Intelligent Community Forum "Intelligent Community of the Year" award, based on its commitment to IT and its social and economic power. A new master-planned community on Toronto's eastern waterfront will take connectivity to a new level, and a Tridel condominium is to be the first residential component of this development. With pre-wired 100 mbps fibre optic Internet connectivity and the capacity to go up to 10 gigabits in future, Aqualina will provide the kind of broadband access needed for a truly intelligent community. Read more . . .
"Using LED lighting in the kitchen"
The LED revolution is on. Prices are coming down, design options are increasing all the time, and homeowners are adopting the new technology. The main benefits of LED lighting are well known: longer lasting light bulbs, lower energy consumption, reduced emissions, lack of toxic materials like mercury and lead. From a design point of view, LED lights offer consumers almost unlimited possibilities throughout the home, but a brief look at some kitchen designs shows just how effective they can be. Create mood, drama, impact, functionality, all with a few basic lighting types and applications. Read more . ..
About Condo.ca
Condoa.ca is all about living and lifestyle. Thousands of subscribers and readers rely on Condo.ca's in-depth coverage of the condominium scene and urban living each week. Condo.ca is committed to following and discussing the trends: urban lifestyle, design and neighborhoods, with a special focus on inspiration.
Our daily news beats include:

Market News: daily news with a focus on real estate, finance and the marketplace.
Green Living: environment-friendly stories, latest technologies, and tips and how tos.
Urban Living: features on the downtown scene.
Decor and Design: interior design tips, how-tos and features
Communities and Condominiums: our coverage of new communities coming into the market.
Great Toronto Scene: special coverage of the GTA scene.
Ask the Expert: you ask your questions, related to condos, we try to find an expert to answer you.
Ask the Lawyer: you ask your legal-oriented questions, we try to find a lawyer to answer.
Ask the Designer: Stella Salvadore, interior designer, answers your design questions (please be sure to post pictures!)
Condo.ca is a publication of Zines Online and Tridel Corp, a service of Persona Corp.