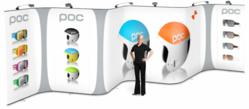 Our mission is to provide great value at affordable prices for our clients.
Albuquerque, NM (PRWEB) June 21, 2013
EXHIB-IT!, a leading trade show display and marketing company has recently announced their "Sizzling Summer Specials" promotions that will go on through the month of June.
Summer Promo One – LinkWall Displays
When customers purchase a LinkWall Display from EXHIB-IT!, they receive a $700 discount off the standard retail price.
The LinkWall Display is both portable and flexible. Consisting of multiple base units, which can either be used alone as a small, banner type display, or can be combined to form larger, multiple units such as tower kiosks, back wall displays and much more. The LinkWall is extremely flexible and can be set up in multiple configurations. This display option is extremely lightweight and portable, and requires no tools to set up, making it an ideal choice for summer events.
Summer Promo Two – The PodiumCase
When customers purchase The PodiumCase from EXHIB-IT!, they receive $200 off the standard retail price.
The PodiumCase is a display box that can easily be turned into a presentation counter. To transfer from box to counter, simply open the box and attach the wooden top. The counter is then set up and ready to be used at any event. Inside the detachable shelves give you plenty of space to hold demo products, brochures, and anything else you may need on hand but out of sight of prospective customers. The front part of the counter can be used for additional company exposure and the entire unit is equipped with wheels to make transportation quick and easy. There are multiple choices in color and design for the counter top, and attachable accessories are available.
Summer Promo Three - FabriMural Displays
When customers purchase any of the top of the line FabriMural Displays from EXHIB-IT!, they save hundreds of dollars.
The line of FabriMural displays will make a big impact at any event. These displays offer a seamless, fabric panel for graphics with EXHIB-IT's legendary Instand pop-up. The graphic panels are tailor made with the best finish and are delivered pre-installed on the frame for quick and easy set up. These amazing displays weigh less than 125 pounds, which makes them a great choice for any event. They are shipped via UPS or FedEx in a rotationally molded, wheeled case for easy movement.
Customers can take advantage of EXHIB-IT!'s "Sizzling Summer Specials" by contacting EXHIB-IT or visiting the promotion page on their website at http://www.exhib-it.com/monthly-promo.
About EXHIB-IT!
EXHIB-IT! is a design and display company that specializes in high quality trade show displays and trade show management services. More information can be found at their official website at http://www.exhib-it.com.