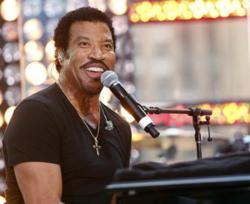 San Francisco, CA (PRWEB) June 21, 2013
Music legend Lionel Richie recently announced a North American tour that will span the middle of September through the middle of October, and San Francisco ticket broker Top Notch Seats has Lionel Richie concert tickets available for all dates.
Richie has remained in the public eye over the past two decades after his music worked its way into the cassette decks of fans all over the world in the 1980s, and his voice, look and ability to wow audiences has not tapered. He has released albums on a regular basis that have garnered widespread critical acclaim, and Lionel Richie concert tickets are as popular as ever.
The upcoming tour will begin on the 18th of September at the Hard Rock Hotel & Casino in Hollywood, Florida. The wildly popular singer will make a stop at another casino three days later in Atlantic City before making his way along the East Coast, throughout the South and into the mainland.
A glance at the schedule reveals that Richie was able to pick and choose which locations and events to play, as is evident by two performances at the annual Austin City Limits on October 6 and October 13. Following those dates will be California shows at the HP Pavilion in San Jose and the Hollywood Bowl in Los Angeles. Richie's contingency in California is as dense and loyal as any region of the Earth, meaning Lionel Richie concert tickets to these dates are going to be very popular.
Top Notch Seats currently has a large selection of Lionel Richie tickets that fans can peruse at their convenience, and many who are interested in attending one or more of these live dates have been following the Alabama-born 63-year-old for decades. Richie's childhood home was located on the campus of the famed Tuskegee Institute, and he attended the school in the 1960s. He dabbled in a number of musical endeavors during this time, fronting R&B and soul groups until he was noticed by a major record label. Richie's talent and dedication led him to a long and successful career in music, and fans cannot wait to see the seasoned veteran take the stage.
For more information about Lionel Richie concert tickets, visit http://www.topnotchseats.com.
About Top Notch Seats
Operating from the heart of Silicon Valley since 1993, Top Notch Seats is an online leader in secure ticket sales. TNS supplies audiences with quality seating and tickets to all major concerts, theatre and sports events in the Bay Area and around the nation.
Top Notch Seats specializes in providing Bay Area concert tickets with a wide variety of seating options, which enables customers to choose their favorite vantage point. TNS is a licensed Bay Area ticket broker engaged in the business of buying and selling first-rate tickets. They do not sell tickets at face value; ticket prices are often well above face value and reflect the cost of obtaining quality seating.