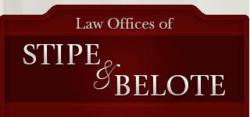 Oklahoma City, OK (PRWEB) June 21, 2013
On May 7, 2013, the Court of Civil Appeals of the State of Oklahoma upheld the punitive damages award in an insurance bad faith case, OPITZ Inc., d/b/a 5 STAR STORAGE, an Oklahoma Corporation vs. Le Mars Insurance Company, a Foreign Corporation, Case number 109,456. The amount of the punitive damages for insurance bad faith was affirmed, and was upheld by the judge in the case, a significant victory for the client of The Law Offices of Stipe & Belote. According to court documents, the attorney from the firm was able to prove that the insurer intentionally failed to provide the full amount of the insurance settlement to repair the damage to the facility caused by a hail storm.
Per court documents, the legal team also provided conclusive evidence that the insurance company, Le Mars Insurance Company, wrongfully charged their customer, the firm's client, a $94,000 co-insurance penalty, claiming that the company had been underinsured. The original judgment, which was awarded in a jury trial, was for $415,000 in actual damages, $225,000 in punitive damages, in $114,126 in pre-judgment interest. The insurance company was also forced to pay the legal fees for the firm.
This appeal was filed by the insurance company that was claiming that the punitive damages were too high, but the original court judgment was affirmed, upheld by the appeals court. This victory is only one of many that have been accomplished by the prominent and respected legal team of James Belote and Jack Stipe.
With more than 30 years of collective experience, the two founding attorneys have garnered a reputation for excellence in difficult personal injury cases in the Oklahoma City area and beyond. The firm has established relationships with some of the most respected professional resources to call upon to present evidence in court to support a claim, whether an injury claim, wrongful death claim or insurance bad faith case. You can find out more about the firm by accessing their website at http://www.stipeinjurylaw.com.