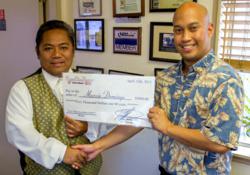 Safety is our highest priority
Honolulu, Hawaii (PRWEB) June 21, 2013
Royal Star Hawaii Motorcoach Tours & Destination Services (PUC 1505-C) has awarded veteran driver Marvie Domingo a $5,000 check for going five years without an accident. "Safety is our highest priority," said Marc Rubenstein, Royal Star's Vice President and General Manager. "So we are proud of accomplishments like this and hope to reward more drivers this year."
The majority of Domingo's driving is maneuvering a 58-passenger motorcoach through the congested, narrow streets of urban Honolulu and Waikiki, streets filled with cars, trolleys and buses, as well as pedestrians. Domingo attributes his success to being relaxed and maintaining concentration. "Never rush," he advises. "Always look twice at your mirrors." Domingo has been with Royal Star Hawaii for five years, and has never once had an accident with the company.
Royal Star Hawaii has had a highly successful safety award system for accident-free drivers since its inception in 1996. Each consecutive year a driver goes accident-free, they are awarded an additional $1,000 per year up to a maximum of $5,000. That means that over the course of five years, Domingo was awarded a total of $15,000.
Royal Star Hawaii celebrates over 15 years of providing a wide range of quality tours and transportation from original tours to group charter and airport transportation on Oahu. For more information, call (808) 841-STAR (7827) or visit http://www.royalstarhawaii.com.