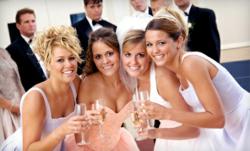 You can go alone, but that doesn't mean you'll leave alone...
Cleveland, OH (PRWEB) June 22, 2013
Weddings can be stressful affairs for a bride and groom. However, they present some difficulty for those who are still searching for love. There are some who might fret when they realize they cannot check off the "plus one" box, but Sonali Lamba of the Huffington Post offered a few reasons why it is a great idea for bridesmaids to go stag to a wedding in her article, "4 Reasons to Go Without a Plus One as a Bridesmaid."
"My first thought on hearing this is so a bridesmaid can meet a great groomsman," said Laugh Staff co-founder Josh Womack. "I'm trying to help my clients out by writing or editing a best man speech that can hopefully impress some ladies – that's a good enough reason to stay single for a wedding in my opinion."
Lamba did not detail meeting groomsmen as a reason to stay solo, however. She did mention that the table closest to the bar is sometimes referred to as the "singles table" and any single guy invited to your friend's wedding is probably a good choice. Even if he's not part of the wedding party, he's probably still a worthy candidate.
"I've been primarily writing maid of honor speeches for clients and I think sometimes they are looking at things the wrong way," said Laugh Staff consultant Kali Fencl. "Some are really sad about showing up to these events as single ladies, but honestly, weddings can only widen the search parameters if you let them. Be with your friends, have a good time and things can happen naturally. Oh, and the stingy side of me says you'll save a boat load of money!"
The article also noted that saving money was a huge plus to being single at a wedding. Lamba argued that showing up alone means not being obligated to spend as much on a wedding present. Sharing a hotel room with some of the other bridesmaids can help pinch some pennies as well as it can be more expensive for a couple to rent a room rather than a group of friends.
The most important reason to be a single bridesmaid at a wedding is just to be there for the bride. With no date to attend to, bridesmaids can be there for the friend on their big day, which in all honesty is the most important thing.
For more information about Laugh Staff Inc. and their speech writing services visit http://www.laughstaff.com or email info(at)laughstaff(dot)com.
About Laugh Staff:
Laugh Staff, Inc. was founded in 2012 by a team of comedians and writers in Cleveland, Ohio. Laugh Staff helps their clients with best man speeches as well as providing best man speech examplesbest man speech examples on their blog. They assist best men and maids of honor in speech-editing, speech writing, and provide training on speech delivery. Recognizing the importance of the big day, Laugh Staff's professional comedians work with best men and maids of honor to ensure they make a lasting impression.