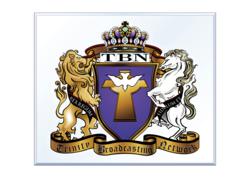 Adding 'IBA News' gives TBN and our viewers another strong link to stand strong with the nation of Israel.
(PRWEB) June 21, 2013
Trinity Broadcasting Network, the world's largest religious broadcaster and America's most-watched faith channel, announced the launch of a unique 30-minute current events program, "IBA News," that offers in-depth coverage and analysis of events and issues in Israel and the Middle East from a perspective not given by most media outlets.
Produced by the Israel Broadcasting Authority, "IBA News" presents balanced, thought-provoking news coverage on politics, economics, education, technology, and social and cultural issues, along with human interest stories about Israeli people and places.
TBN Vice President Matthew Crouch noted that much of the coverage on Israel and the Middle East generated by the major U.S. media tends to be one-sided, with reporters and editors often portraying Israel and its interests in an inaccurate and un-sympathetic light. "For many individuals, particularly those in the Christian community with a keen interest in the region, finding consistent news and perspective on Israel and the Middle East can be frustrating," said Mr. Crouch. "We're excited to introduce TBN viewers to 'IBA News,' with its balanced, focused coverage on the people, places, events, and issues of special interest to those of us who support the nation of Israel."
Mr. Crouch noted that TBN has had a long and warm friendship with Israel, with his parents, TBN founders Paul and Jan Crouch, having met nearly every Israeli president and prime minister over the past 35 years. "One of the deepest desires of my parents since founding this network forty years ago has been to see TBN broadcast full-time from Israel," he explained. "That dream came true in 2011 when TBN's Russian affiliate launched the Shalom Channel, which reaches out 24 hours a day with programming produced especially for the millions of Russian Jews who have made Israel their home."
He added that TBN is finishing up on the construction of a state-of-the-art television studio that will produce programming for the Shalom channel, as well as for two other Middle Eastern Networks, TBN's Al-Horreya Arabic-language affiliate, and its Nejat TV Farsi-language affiliate.
Presently, "IBA News" airs Mondays at 1:30 a.m. and Thursdays at 10:00 p.m. Pacific Time, with plans to add additional broadcast times in the near future (check here for an updated schedule of IBA News broadcasts on TBN).
"Adding 'IBA News' gives TBN and our viewers another strong link to stand strong with the nation of Israel," explained TBN founder Dr. Paul Crouch. "Scripture exhorts us to 'pray for the peace' of this land so close to the heart of God. This dynamic program offers the background and perspective to do so in an informed and focused manner."
For more information on the entire Trinity Broadcasting Family of Networks, visit us at http://www.tbn.org.