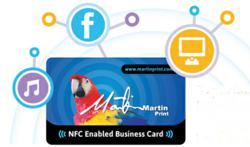 Australian business owners can now experience the incredible benefits of NFC first-hand.
(PRWEB) June 24, 2013
Australian business owners are being invited to experience their first taste of NFC Marketing for free, as Martin Print launch a unique new NFC Card deal in which the only charge is just 60 cents for the postage stamp.
The NFC Cards will feature the recipient's own business designs, and will arrive all ready to be encoded with digital features and functions which can be unlocked with a simple tap against an NFC-enabled Smartphone.
However, Australian business owners will need to be quick to stake a claim on their own futuristic freebie. Martin Print has set a strict budget to produce no more than one thousand 60 Cent NFC Cards before the special offer is permanently withdrawn.
NFC Cards contain a tiny customisable microchip – or 'NFC Tag' – which can be quickly encoded using a simple Smartphone App.
Business owners can configure their NFC Cards to open up a new world of enhanced marketing strategies on the Smartphone screen.
For example, just a single tap of the card against an NFC-enabled Smartphone could direct recipients to a business website, social media page, or any other slice of online content.
Alternatively, a tap of the card could load up a Smartphone App, place a telephone call, create a text message, or even automatically import a business owner's details into the contacts list of the recipient's Smartphone.
"We're offering clients the opportunity to experiment with NFC Cards for themselves with zero risk," explains Martin Russell, founder and driving force behind Australian print and design company Martin Print.
"On a daily basis, we're flooded with requests and queries on NFC Cards from clients who are keen to learn more about how exactly this new format of Business Card works.
"I suspect that a lot of business owners are under the impression that encoding an NFC Card is a tricky or complex process. Nothing could be further from the truth! It's actually easy, quick, and good fun!
"We decided that the only way to really get that message across is to give away custom-crafted NFC Cards on a strictly limited basis, so that Australian business owners can experience the incredible benefits of NFC first-hand."
Full sets of NFC Cards from Martin Print are available with a wider range of format choices and design extras, including an option for the Martin Print team to handle the encoding of all the cards.
However, the idea behind this unique deal is that business owners will get the chance to play around and experiment with creating and editing their own NFC Tags, using a completely free Smartphone App such as NFC Tagwriter by NXP.
This popular App gives users the power to choose the exact function that they wish their NFC Cards to perform, using simple menu screens and intuitive graphical guidance.
After creating or updating an NFC Tag, the user simply taps their NFC Card against their Smartphone to complete the encoding.
Tags can be write-protected to avoid the accidental erasure of the data, or they can be left unprotected so that existing stocks of NFC Cards can be updated or changed at any time.
"We're covering all the production costs of these 60 Cent NFC Cards ourselves," Russell reveals.
"We're naturally making a loss on each free card that we produce, but I genuinely believe that when a client sees their very own NFC Card in action, they'll be eager to order a full set from us in the future. It's a strategy that's worked out well for us in the past. And the real power of NFC Marketing comes alive when you can distribute your digitally enhanced cards far and wide."
As an extra bonus, Martin Print will also be offering minor professional design work on the NFC Cards (usually charged at $19) at no cost.
Australian Business owners can claim their own customised NFC Card from http://www.martinprint.com.au/free-nfc-business-cards for a strictly limited period.