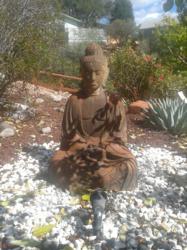 The Sedona Zen Den was the perfect peaceful setting for our Meditation, Yoga & Music Retreat Weekend
Sedona, Arizona (PRWEB) June 25, 2013
Anahata's Shamangelic Healing Center in Sedona, Arizona is proud to open to doors of the New Sedona Zen Den. The Sedona Zen Den in West Sedona is a sacred meeting space hosting conscious events and programs conducted by the most experienced local and visiting facilitators. Nestled beneath Thunder Mountain, surrounded by sacred gardens, meditation areas & a labyrinth, the Sedona Zen Den is also walking distance to the Stupa, medicine wheel & hiking trails.
The Zen Den in West Sedona is a new and affordable meeting space that is perfect for workshops, sacred ceremonies, yoga, training courses, concerts & meditation gatherings. The space has many amenities to support the needs of facilitators such as chairs, back jacks, yoga mats, yoga blankets, Thai massage mats, meditation pillows, folding tables, sound system and beautiful views.
There are many events already offered at the Sedona Zen Den such as weekly Thai Chi, Yoga, Meditation and Soulful Dance. Anahata currently offers her Training Courses in Energy, Healing Tools and Shamanic Teachings at the Sedona Zen Den. With its healing vortexes, natural beauty and sacred Native American imprint, Sedona is the perfect location for studying the content of these courses. The website SedonaZenDen.com will have a list of upcoming workshops, ceremonies, courses & conscious offerings. Please e-mail Info(at)SedonaZenDen(dot)com for booking inquiries.
More individuals are seeking meditation practices, Shamanic healing, Spiritual retreats and sacred land experiences. Sedona is the mecca for these offerings. Shamangelic Healing with Anahata offers a full complement of Sedona vortex journeys, healing sessions, spiritual guidance and personalized retreats. Providing participants with soulful experience is the primary intention of Shamangelic Healing with Anahata.
The Shamanic healer and teacher, Anahata has trained extensively with gifted shamans, energy healers and spiritual teachers from Peru, India, Asia and North America in order to artfully integrate the fields of energy healing, self-empowerment, shamanic teachings, emotional release, spiritual studies and visualization techniques. Blending the compassion and tenderness of an Angel and the wisdom and strength of a Shaman, Anahata guides journeys of profound healing and awakening. Her extensive client base spans the globe and includes business professionals, parents, couples, healers and individuals of all ages, who seek to heal and awaken their fullest potential.
Anahata is the founder of Shamangelic Healing and Shamangelic Retreats based in Sedona, Arizona. Clients seeking Spiritual awakening, transformational healing services, conscious relationship counseling, sacred land journeys or training courses choose from a wide range of options in order to create a tailored personal experience. Anahata's Shamangelic Healing Sanctuary is nestled beneath Sedona's famous Thunder Mountain, with 360 degrees of breathtaking views, walking distance from an ancient medicine wheel and healing vortexes, making this the perfect setting for healing and expansion.
For detailed descriptions of the Shamanic healing sessions, Sedona vortex journeys, soulful ceremonies, and training courses offered by Anahata, visit http://www.ShamangelicHealing.com.