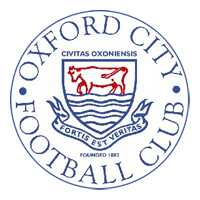 Oxford, UK (PRWEB) June 22, 2013
Manager of Oxford City FC (OTCQB:WMXG) Mike Ford has been busy in the last few weeks putting an exciting squad together for our second year in the Conference North.
All last season's players have agreed to re-sign with the exception of Nick Stanley.
Additions to the to date squad are as follows:
Attacker Tom Winters joins the club from our rivals Brackley Town where he has been held in high regard for several seasons, the 27 year old began his career at Oxford United and is known for his fierce left foot.
James Clifton also comes from Brackley Town, the young defender is a former scholar with Aston Villa and is a calm and assured player who will further bolster the defence.
Kieran Sanders is a highly rated attacking player who joins up from North Leigh, skilful and has the ability to turn defenders inside out.
Lee Henderson is an accomplished central defender who signs from Didcot Town and will be looking for prove himself in the Blue Square North
Mark Scott is a young goalkeeper who began his career at Swindon Town, following a loan spell with us in 2011/12 season he signed for Salisbury City for whom he achieved promotion last term
Will Green is a highly rated young attacking player who joins us from Southern League Bedford Town, Green began his career at Northampton Town but it was his spell at Banbury United that stands out where he became a prolific scorer leading to a move to Brackley Town.
Mike Symons is a big striker who has been the leading goalscorer at Worcester City for the past 2 seasons, has experience at this level having also spent time at Gloucester City and will provide a different option in the striking department
City favourite Felipe Barcelos will be unavailable at the start of the season until he returns from Brazil.
First chance to see the new players at home will be the City v United friendly on Tuesday, July 23rd (7.45pm). Adults £5, Concessions/Students £3, Under 16 free
About Oxford City Football Club
Oxford City Football Club is a professional English football club currently playing in the Conference North after gaining promotion via the Southern Premiere League playoffs. They play home games at Oxford FC Stadium. The club has improved their facilities in recent years and plan to progressively improve the stadium in line with anticipated continued success on the pitch.
Oxford City FC is one of the oldest and most historic club's in the county. The club has become a major contributor to football growth in the local community; it is also the largest participation club in the county with over 30 teams from all sectors of the community: boys, girls, men, ladies, learning disability teams and veterans.
Oxford City Football Club entered into a definite share exchange agreement with WMX Group Holdings, Inc. (OTCQB:WMXG) . This agreement formally reorganized the company to change their central focus to Oxford City FC business. WMX Group Holdings, Inc. plans to move forward with a name change to Oxford City Football Club and a symbol change. Refocusing our energies in one direction to advance the interests of Oxford City Football Club will allow us to maximize the club's earning potential globally.
The global headquarters are based in the South Florida in Deerfield Beach. Oxford City Football Club was founded in 1882 and has been a fixture in English Football ever since. Oxford City FC currently plays in the Conference North, with their focus on promotion. The organization has a championship tradition leading back to their FA Amateur Cup Championships in 1905-1906. Oxford City FC is one of the oldest and most historic clubs in the county.
Safe Harbor for Forward-Looking Statements
This press release contains forward-looking statements within the meaning of Section 27A of the Securities Act of 1933, as amended, and section 21B of the Securities and Exchange Act of 1934, as amended. Readers are cautioned not place undue reliance on these forward-looking statements, which are only predictions and only speak as of the date hereof. Forward-looking statements usually contain the words "estimate," "anticipate," "believe," "plan," "expect," or similar expressions and are subject to numerous known and unknown risks and uncertainties. These risks and uncertainties could cause the Company's actual results to differ materially those indicated in the forward-looking statements. Investors are encouraged to carefully review regulatory filings prior to investment consideration. Past performance is no guarantee of future success or that there cannot be losses or business interruption. The Company is in a rapid growth sector that may or may not continue to grow in the future and therefore poses risks that may be different than other investments. Management regularly provides news and additional information believed to be true and accurate at the time of dissemination but has no requirement to modify, comment or change in the future should circumstance change or information prove to be inaccurate for any reason. Additionally, the Company makes every effort to comply with all applicable laws.
Oxford City Football Club
Public Relations Department
info(at)oxfordcityfc(dot)com
SOURCE Oxford City Football Club