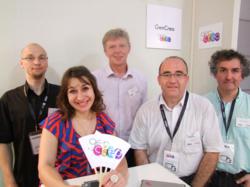 The social impact of this free app is intended to encourage respectful online behaviour and fair use of digital content.
Luxembourg, Luxembourg (PRWEB) June 23, 2013
ImCreo, the first product from GenCreo, was launched today as an iOS closed-beta version smartphone app to a limited number of users within the iOS developer community. The ImCreo app "automagically" enables content creators to establish sharing and re-use permissions of their creative work, so everyone can instantly identify usage approvals, set by the creator. ImCreo visually encourages respectful behaviour and fair use of digital content, encompassing concepts of intellectual property rights.
ImCreo is designed to be used with smartphone cameras whereby users (creators) define the parameters/permissions for sharing and re-use (i.e. personalise) BEFORE publishing – whether to social media or digital libraries, etc.
The founders and co-founders have embraced the concept of entrepreneurship, specifically regarding collaborative innovation, and have launched at "warp speed". Merely 24 days after meeting for the first time and being rewarded for their idea at the end of May (see below), they have already created a legal entity and are presenting their closed beta version at ICT Spring 2013, using the same platform shared by other enterprising speakers, including Jimmy Wales, founder of Wikipedia.
BACKGROUND
GenCreo S.A. is a Luxembourg start-up established this month following a highly successful Start-Up Week-end from 24-26 May 2013 at Technoport incubator at Esch-Belval. The "Clarity Creator" idea was introduced at the event by Didrik EIRIKSSON, an entrepreneur of Icelandic nationality who moved to the Grand Duchy in 1994.
At the May event, Didrik received significant encouragement and support for the idea which, in the second step of the week-end, was worked on in a collaborative environment with a multi-skilled and international team, out of which resulted a business concept which was selected by the panel of respected judges for an award.
Subsequently, the company has been established and the first product, the ImCreo app based on the original idea, has been developed by a team of enthusiastic entrepreneurs working every spare hour available, racing to prepare for the 19 June beta launch. This would not have been possible without great support from a number of very committed advisors and experts who are part of the entrepreneurial ecosystem in Luxembourg which comprises both public and private entities.

Founders: Didrik EIRIKSSON (CEO, Iceland/Luxembourg) & Viktoria VALDIMARSDOTTIR (Iceland/Luxembourg)
Co-founders: Katarzyna (Kasia) KOLODZIEJCZYK (Poland), Stefanie ZUTTER (Germany), Victorio BENTIVOGLI (Argentina) & Vladislav GHERCIU (Moldovia)
Edouard Wangen, Director at LuxConnect, whose valuable contributions and leadership helped advance Luxembourg into the global top ranks of Tier IV providers, is Chairman of the Board at GenCreo S.A.
The company name combines two Latin words, gen(s) + creo: Gens = clan, race, nation, people, tribe; Creo = to create, make.
Didrik EIRIKSSON, CEO and founder of GenCreo, said "This is an incredibly exciting time for all of us. From presenting the original idea to working out the business concept and developing our first product, we have hardly had time to look back. We are all looking forward with anticipation and hope that this launch at ICT Spring 2013 will be the start of great things to come."