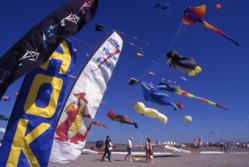 Skilled flyers will attempt a new world record by simultaneously flying one hundred kites.
Long Beach, WA (PRWEB) June 26, 2013
The week-long Washington State International Kite Festival celebrates its 33rd year at Long Beach, Aug. 19 through 25, with repeated world-record attempts as well as crowd favorites such as Rokkaku Battle, Kite Ballet, Mass Ascensions and Lighted Kite Night Flying. The activities take place on the beach adjacent to the Long Beach boardwalk and along the Bolstad approach on the Long Beach Peninsula.
"This year, quad-line fliers from all over North America, Asia and Europe will be featured," said Jane Holeman, festival organizer. "Flying kites that can be maneuvered to move forward, reverse, spin and hover, these skilled flyers will demonstrate coordinated quad-line team flying and attempt a new world record by simultaneously flying one hundred kites."
Quad-line fliers will be active throughout the week, and world record attempts, led by Team iQuad and other experienced team leaders from around the world, will take place on Aug. 22 from 1 to 2:30pm, Aug. 23 from 1 to 2:30pm and Aug. 24 from noon to 1:30pm, weather permitting.
The featured flyer for this year's festival is master kite maker and National Grand Champion Cliff Quinn, whose passion for kite sharing, making and flying has taken him from his home in Pennsylvania around the globe and back.
During the Kite Festival, a Banner Tribute (specially themed, colorful standing "kites") will be given to Canadian professional kite flyer Ray Bethell, Aug. 22 through 24, with a corresponding Ray Bethell special exhibit at the World Kite Museum.
Kite enthusiasts of all ages are invited to participate in kite building, flying lessons and friendly competitions, as well as hands-on activities, throughout this family friendly event. Attendees can also enjoy fireworks display, plenty of food and kite vendors, easy beach and boardwalk access, as well as shuttled and close-by parking.
Long Beach is the 'Kite Capital of the U.S.' Kite shops, resident kite flyers and the World Kite Museum provide inspiration for kite enthusiasts and first-time flyers alike. In addition to the town of Long Beach, the Long Beach Peninsula boasts a string of coastal communities with a variety of restaurants, comfortable accommodations, unique shops, and fine art galleries, as well as state and national parks, two lighthouses, and 28 miles of white-sand beach.
For Kite Festival information, please access http://www.kitefestival.com and, for visitor information, please call the Long Beach Peninsula Visitors Bureau at 800-451-2542 or visit http://www.funbeach.com.